The menstrual cycle entails so much more than a period.  
Now, Oura members will have a new, upgraded version of the period prediction feature, highlighting which phase of the menstrual cycle they are in — either follicular or luteal. 
With this new iteration comes a new name: Cycle Insights. 
Building on Our Commitment to Women's Health 
Oura aims to be an essential partner for our members as they navigate their own health journeys and develop their body literacy. As Holly Shelton, Chief Product Officer at Oura, says, 
"As women, and as caregivers, taking care of ourselves first allows us to better take care of others. Oura's role is to give women the permission, knowledge, and tools to take care of their bodies."
With Cycle Insights, we've introduced a more detailed way for members to understand their monthly cycles. This feature is also something Oura members have asked for: "The period prediction feature was a game changer when it launched, then members gave us feedback that they wanted to see the phases of their cycle," explains Caroline Kryder, Oura's product manager for women's health. "We knew we could make it happen." She continues: 
"When we're taught about our menstrual cycles, it's often focused entirely on our periods. But there's so much more to your cycle than that, and now, you can see how your body reacts to different menstrual phases with Oura." 
LEARN MORE: Oura's Commitment to Prioritizing Women's Health
Track your cycle and understand your body with Oura
Shop Now
Introducing Cycle Insights
Using biomarkers like body temperature trends, Cycle Insights will show you which phase of the menstrual cycle you're in. You'll also receive daily insights on how your cycle impacts your entire body.  
"If your Readiness Score answers, How ready am I for the day? and your Sleep Score answers How did I sleep last night?, you can think of Cycle Insights messages as, Is there anything new I might notice about my body in this cycle phase?" Kryder explains. 
"With Cycle Insights, you'll start to see the difference in your body between the follicular and luteal phases," she says. "We hope that women will be able to find moments in their cycle they truly look forward to — when they feel stronger than ever." 
As you use Cycle Insights, you may start to notice patterns between your cycle phases and other behaviors or habits. For instance, you may notice that taking a midday nap helps to alleviate your PMS symptoms during the late-luteal phase, or that strength training in your follicular phase helps you sleep more soundly. 
READ MORE: Cycle Syncing 101: Tips to Support Your Sleep, Mood, and Energy Throughout Your Cycle
Who Can Use Cycle Insights? 
People who have a natural menstrual cycle will be able to use the feature, since it relies on detecting the temperature changes driven by your hormonal cycle. To see your menstrual phases in Cycle Insights, log the start of your period, which signals the start of your follicular phase. 
If you are using non-hormonal birth control, like Natural Cycles, you will be able to use Cycle Insights.
If you do not have a natural temperature cycle  — whether due to menopause, hormonal birth control, or other factors — you will not be able to see follicular and luteal phases in Cycle Insights. However, you will still be able to log your last period and see period prediction.
How Does Oura Predict Which Phase I'm In? 
Oura tracks changes in your body's signals, and your menstrual cycle is a vital sign of your overall health. From heart rate variability (HRV) to body temperature and resting heart rate (RHR), your Oura Ring is constantly measuring how your body is doing. This information can be used to inform the algorithm where you are in your menstrual cycle.
Body Temperature Trends
The most important biosignal for menstrual cycle tracking are your body temperature trends.
Follicular phase (including menstruation and ovulation):

Once your period starts, your body temperature drops, and remains low throughout this phase. During ovulation, you may experience a slight increase in body temperature.



Luteal phase:

Once you have ovulated, your body temperature sharply increases, and continues to rise up until your period starts. 
READ MORE: How to Use Oura Temperature Trends to Track Your Cycle
Calendar Tracking
Oura predominantly tracks patterns in your natural body temperature variation to predict which phase of your cycle you're in. However, you need at least two months' worth of consistent temperature data recorded in the Oura App or personal body temperature to be used in predictions.
If you're still in the process of accumulating your 60-day temperature baseline, or if your natural variation can't be detected due to contraceptive use or other hormonal changes, predictions will be based on your last period, cycle length, and regularity. 
This personalization can help you cycle sync more effectively.
Note that the idea that menstrual cycles are 28 days long is a misconception, as proven by Oura member data and multiple other studies. Cycle lengths can actually vary between 20 to 40 days, and each person has a variation of +/- 8 days from one cycle to the next on average. That's why the Oura algorithm takes into account biometric markers, not just calendar calculations, to determine where you are in your cycle.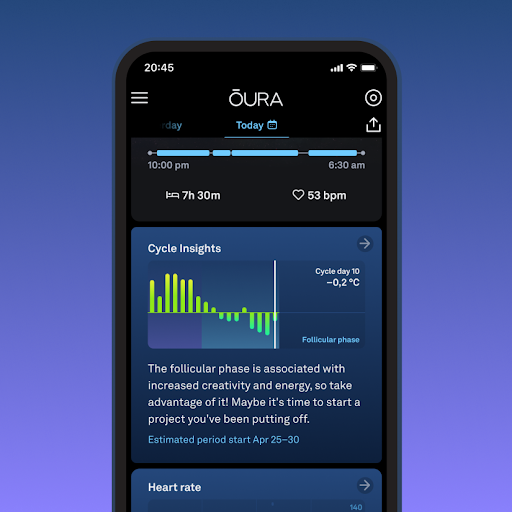 More Benefits of Cycle Insights 
Knowing which phase of your cycle you're in gives you clarity into fluctuations in your mood, reproductive health status, and other symptoms. Cycle Insights supports your body through these changes in order to help you thrive.
1. Support Your Reproductive Health
Monitoring your menstrual cycle over time can provide insights into your typical menstrual pattern – such as the regularity or length of your cycle.  
Changes in the menstrual cycle can sometimes be indicative of underlying health conditions, hormonal imbalances, pregnancy, or menopause. Being able to spot abnormalities can prompt you to seek medical advice if needed, potentially aiding in the diagnosis and management of reproductive health issues.
RELATED: 7 Potential Reasons Why Your Menstrual Cycle Is Getting Shorter
2. Find Patterns in Your PMS or PMDD Symptoms
Many individuals experience physical and emotional symptoms during different phases of their menstrual cycle, such as bloating, mood changes, or fatigue. Women with premenstrual syndrome (PMS) or premenstrual dysphoric disorder (PMDD) experience more noticeable physical and emotional changes, which can impact how they go about their day-to-day lives. By tracking your cycle, you can anticipate and prepare for these symptoms, and take appropriate self-care measures.
READ MORE: Why Am I So Tired On My Period?
3. Empower Your Own Body Literacy 
More than a third of women do not understand their own menstrual cycle. Research shows 53.6 percent of women don't know when their next menstruation will be, while 67.2 percent don't know when ovulation happens during their cycle. 
An enhanced understanding of your own menstrual cycle can empower you to feel more in tune with your body, empowering you to make informed decisions about your health and well-being. 
---
About the Oura Expert
Caroline Kryder is Oura's product manager for women's health, helping teams across the company build products that help women achieve their goals from cycle tracking to fertility. Before joining Oura, she helped clients build their own biometric research programs using eye-tracking, EEG, heart rate, facial coding, GSR, and implicit testing at Nielsen. Her work focused on exploring questions like "how do male and female superheroes inspire different emotions in different audiences?" Her passion is to empower people to understand their health and talk about science in their own words.