What Is the Oura Activity Score?
Your Activity Score is one of three Oura scores that help you answer different questions about your health:
Your Readiness Score: How ready are you for the day?
Your Sleep Score: How well did you sleep last night?
Your Activity Score: How are you balancing your activity, inactivity, and rest?
Your scores are connected and influence each other — giving you a full picture of how your lifestyle impacts your body.
For example, if your activity levels change how you recover, your Readiness Score will adjust to reflect the impact of your training. Similarly, if your Readiness Score drops, your activity goal will automatically adjust to help you prioritize recovery.
Your Activity Score is a great tool to discover your ideal activity-rest balance and adjust your potential training goals.
Your Activity Score ranges from 0-100 and tells you, at-a-glance, how to adjust your activity-rest balance:
85 or higher: Your balance is optimal, keep it up!
70-84: Your balance is good, you're on the right track.
Under 70: Your balance seems off and there may be lifestyle changes you can make to improve it.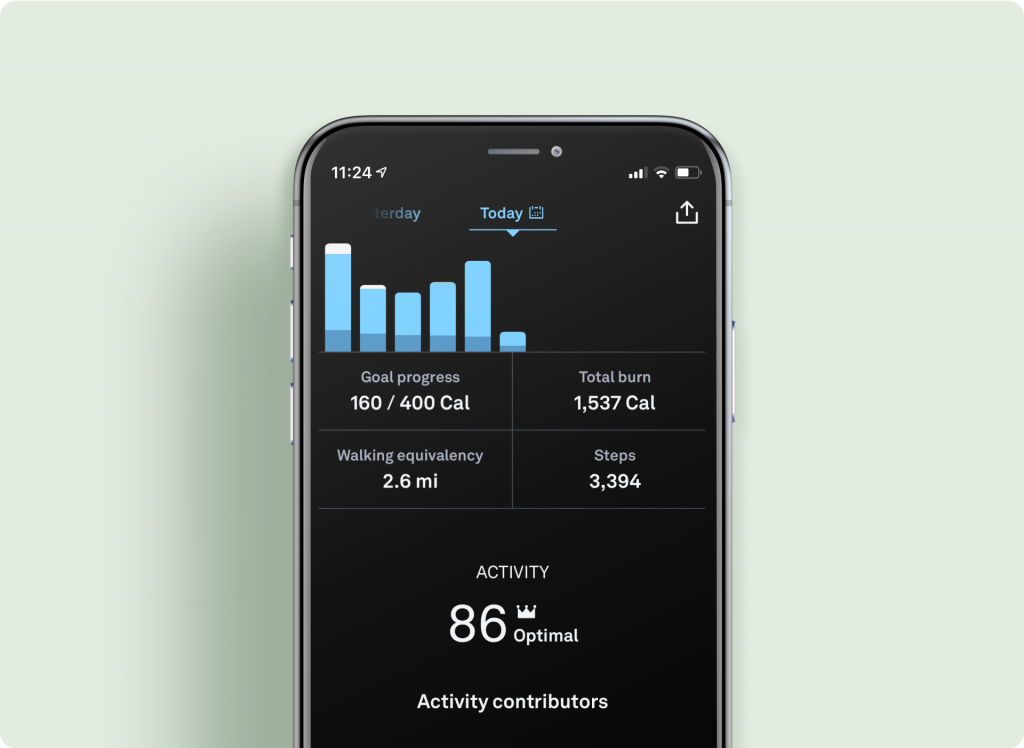 Your Activity Contributors
The sum of six daily Activity Contributors make up your Activity Score.  Your contributors help answer deeper questions about your activity patterns' impact on your health through three core pillars — inactivity, activity amount, and recovery.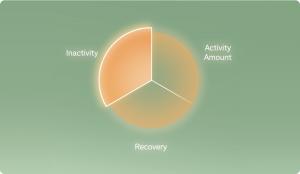 Some of your Activity contributors are actually about inactivity and help you answer "Am I successfully avoiding a sedentary lifestyle each day?" 
Stay Active: "How much time have I been inactive today?"
Move Every Hour: "Have I been able to avoid long periods of inactivity today?" 
While other contributors cover your activity amount and help you answer "Have my activity patterns been healthy and balanced over the past week?"
Meet Daily Goals: "In the past week, how many days have I been able to stay active enough to reach my daily activity target?"
Training Frequency: "In the past week, how often have I been able to exercise?"
Training Volume: "In the past week, how much time have I spent exercising?"
Your last contributor is about recovery and helps you answer "Are you making enough time for recovery?" 
Recovery Time: "In the past week, have you been able to take enough recovery days?"
These contributors are designed to help you avoid the health risks of a sedentary lifestyle (increased levels of diabetes, cancer, cardiovascular disease, & weight gain) and take advantage of the boost that regular movement gives to your heart, body, and mind.
Regardless of where you are in your activity journey, you can identify your strengths (in blue) and your potential improvement areas (in red).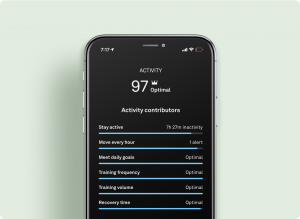 Oura also provides tools to help you meet your goals. If you need a bit of encouragement, enable Inactivity Alerts, and get friendly reminders to stretch those legs. If you are ill, injured, or need to pull back a little, head into your Oura App and turn on Rest Mode. This mode temporarily mutes your activity goals so you and your body can prioritize recovery.
More Activity Tools
Oura measures your physical activity 24/7 using a highly sensitive accelerometer, helping you go beyond just measuring steps. Oura gives you credit for every movement, including subtle activities like household chores that may only involve moving your hands. With your profile information in mind (e.g., age, weight, height, and gender), Oura delivers personalized daily activity goals and a record of your overall activity levels and calorie burn.
Here's a quick breakdown:
Goal Progress: "How many active calories have you burned today vs. your Oura goal?"
Total Burn: "How many calories have you burned today, including those burned while resting?"
Walking Equivalency: "If all of your daily activity was converted into steps, how far would you have to walk to burn that same number of calories?"
Steps: "How many steps have you taken today?"
You can also adjust your baseline Activity goal and type of goal — steps or calorie burn. Learn more about personalized activity goals here.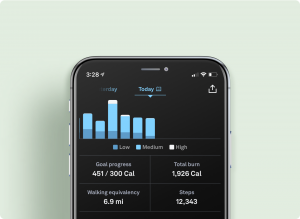 You can use your Goal Progress and Total Burn to decide when to ramp up your activity intensity, take a well-deserved day off, or adjust your caloric intake based on your lifestyle.
You can use your Walking Equivalency and Steps to keep track of your daily activity progress and draw comparisons between different days.
Going Beyond Steps
With Oura, the answer to the question, "Does this activity count?" is always "Yes."
Oura sets itself apart from traditional activity trackers. Whether you're on a run or completing some chores around the house that only involve moving your hands (e.g., dishwashing, gardening, or childcare), you get credit for all your daily activities.
To get the full activity picture, Oura displays your overall activity levels in 15-minute increments across your Daily Movement graph. This timeline can help you balance the benefits of low-intensity activities (keeping your blood flowing and giving space for your body to recover) with high-intensity activities (strengthening your heart, lowering your blood pressure, and helping you maintain a healthy weight).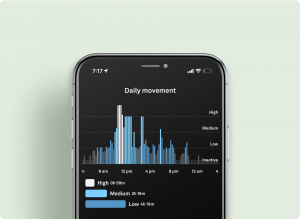 Your Workouts
In addition to your activity metrics, contributors, and Score, Oura also helps you detect and isolate individual activities — labeling them as "workouts."
Oura has a suite of tools to help you track and log your workouts:
Automatic Activity Detection has a title that says it all. It references a list of 20+ activities and automatically detects and labels your workouts.
Manual activity logging enables you to track workouts that aren't automatically detected to make sure no activity or workout falls through the cracks (Yes, even badminton!)
App integrations give you the power to import activities from Google Fit, Apple Health, and Strava.
We all have our favorite ways to measure our workouts, and Oura makes it easy to view all of them in one convenient location.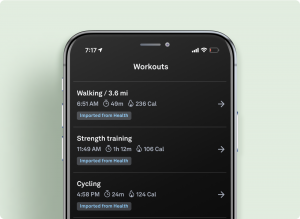 How To Improve Your Oura Activity Score
If you're looking for ways to improve your Activity Score, keep these principles in mind:
Contributors where you receive a "pay attention" message, with a red progress bar, are areas for potential improvement.
An Activity Score of 85 or above is optimal. 100s are designed to be rare rather than regular.
If an illness, injury, or lifestyle need prevents you from meeting your activity goals, you can temporarily mute your Activity Score Contributors with Rest Mode.
As you're exploring which Activity Contributors you can improve, it helps to consider which questions they help you answer.
If your inactivity Contributors are in the red, they're signaling patterns of inactivity. "Are you successfully avoiding a sedentary lifestyle each day?"
To improve these contributors, try enabling Inactivity Alerts for a friendly reminder to stretch your legs or using these tips for staying active. It may also help to keep the design of these contributors in mind:
Stay Active estimates your total daily inactive time while you are awake. This contributor excludes when you are naturally sedentary (e.g., asleep). To improve your Stay Active contributor, aim to keep your inactive time under 8 hours each day.
Move Every Hour measures how well you've avoided long periods of inactivity. To improve this contributor, try moving for 2+ minutes each hour and avoid consecutive hours of inactivity.
If your activity amount or recovery contributors are in the red, they may be signaling the need for a healthier activity-recovery balance. "Have your activity patterns been healthy and balanced over the past week?" and "Are you making enough time for rest?"
To better balance your Activity Contributors, keep these definitions in mind:
Meet Daily Goals records how many days over the past week you were able to meet your Oura Activity Goal based on your Readiness Score and profile information (e.g., age and gender). To improve this contributor, meet your goal for at least 3 days each week, and strive for 5 or more days. When it comes to balancing your activity and recovery, there's one true expert: your body. Oura does not currently enable the manual adjustment of your goal because your Readiness Score is a reflection of your body's true capacity — and your body knows best.
Training Frequency reflects how often you engaged in medium-to-high-intensity activity over the past week. To improve this contributor, try exercising at a medium-to-high-intensity level 3+ times per week. What exactly does that mean? Medium intensity activities noticeably increase your heart rate and breathing rate. You may sweat, but you are still able to carry on a conversation. High-intensity activities leave you huffing and puffing. Try incorporating moderate activities (e.g., jogging, elliptical, gardening) or high-intensity ones (e.g., running) to improve your score.
Training Volume captures your total activity time over the past week. To maintain a strong Training Volume, try to get 2,000-3,000 calories of medium-to high-intensity activity each week. For a healthy adult, this is equivalent to approximately 2 hours of jogging or 4.5 hours of brisk walking per week. If your Training Volume falls to 750–1500 calories per week, it will lower your Activity Score. This contributor is all about finding what works for you. Keep in mind that you can meet your goal by adding up longer periods of medium intensity activities (e.g., gardening, walking, errands) or shorter periods of higher intensity activities (e.g., HIIT workout, run). The goal is not to pack your weekly training volume into a short window of time but rather to spread it out and find balance throughout the week.
Recovery Time reflects your balance of high and low-intensity activity over the past week, ensuring you're setting aside recovery time for muscle repair, muscle growth, injury prevention, and mental recovery. To improve this contributor, dedicate one to two days per week to lower-intensity activities like walking. If you've gone 5 days without recovery time, this contributor will detract from your score. Keep in mind that "recovery days" do not mean sedentary days — simply taking it slow can help your body recover while still getting your blood circulating with a light activity like a neighborhood stroll.