We're thrilled to announce that the Oura Ring Gen3 is now available in an all-new, timeless design: Horizon. Our original design, Heritage, honored our roots. With the introduction of Oura Horizon, we're setting our sights on the ever-evolving future of our world-class health tracking technology, while staying true to our company's Finnish design ethos.
Oura Horizon is more than a health tracker; it's smart, elegant jewelry that keeps up (and blends in) with your active lifestyle. Our new style features a perfectly round, minimal design in each of our original four colors, plus a fresh new finish: Rose Gold. Made of lightweight titanium, Oura Horizon is a true, uninterrupted circle, with a barely perceptible pill-shaped dimple on the bottom to ensure optimal positioning of the sensors.
Get a behind-the-scenes peek into our hardware team's R&D process.
What sets Oura Ring apart from other health trackers? It's a small, sleek ring — not a bulky wearable. "Our research shows that consumers want a tracker that empowers them to live healthier, seamlessly fits into their lives, and looks and feels good on the body," said Tom Hale, Oura CEO. "The new Oura Horizon furthers our promise to deliver the most innovative and advanced health tracker while maintaining exceptional comfort and design."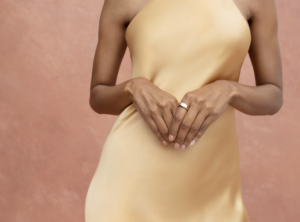 In addition to Oura's impressively long battery life and research-validated sleep staging analysis, this new style delivers the same advanced health monitoring features of the Oura Ring Gen3 Heritage, including live heart rate, Period Prediction, Temperature Trend Sensing, Blood Oxygen (SpO2) Sensing, Guided Wellness Sessions, and Personalized Activity Goals (for iOS users), among others included in your Oura Membership. These features work in harmony to deliver a comprehensive, holistic view of your health at any given time.* 
Learn more about Oura's Gen3 technology here.
With Oura Horizon, we've successfully blended fashion and function — both live in harmony in this stylish, subtle yet remarkably powerful ring. We can't wait for you to experience it for yourself. 
The Oura Ring Gen3 Horizon starts at $349 and comes in Silver, Black, Stealth, Gold, and a newly released Rose Gold finish. The new design joins the Oura Ring Gen3 Heritage lineup, which starts at $299. All styles and colors are now available at ouraring.com. 
*Disclaimer: The Oura Ring is not a medical device and is not intended to diagnose, treat, cure, monitor, or prevent medical conditions/illnesses.