In October 2022, researchers at the University of Vermont (UVM) kicked off a multi-year study to explore techniques and lifestyle practices that may impact the health and wellness of participants, using Oura Ring to collect physiological data. The Lived Experiences Measured Using Rings Study (LEMURS) began with 600 first-year college students and will continue throughout the duration of each participant's college experience, helping individual students identify coping strategies, and ultimately informing several data-based practices that could support the college-aged population.
As described by Chris Danforth, PhD, Director of the Vermont Advanced Computing Center, and one of the lead researchers of LEMURS, first year students who began college in 2022 attended a majority of high school during the COVID-19 pandemic, which he believes negatively impacted their overall mental health. 
Dr. Danforth and the team, including Laura Bloomfield, MD, PhD, Research Assistant Professor in Mathematics & Statistics, Gund Institute for Environment, are exploring the potential impacts of time spent in nature, traditional group therapy, and exercise on physical and mental health, measured by Oura Ring. Oura's battery life, which is long enough to support data collection in a busy, college age population, unobtrusive form factor, and well-validated sleep metrics, like heart rate variability, contributed to researchers selecting Oura to capture biometrics from LEMURS participants. 
READ MORE: How Accurate Are Oura's Heart Rate & HRV Measurements?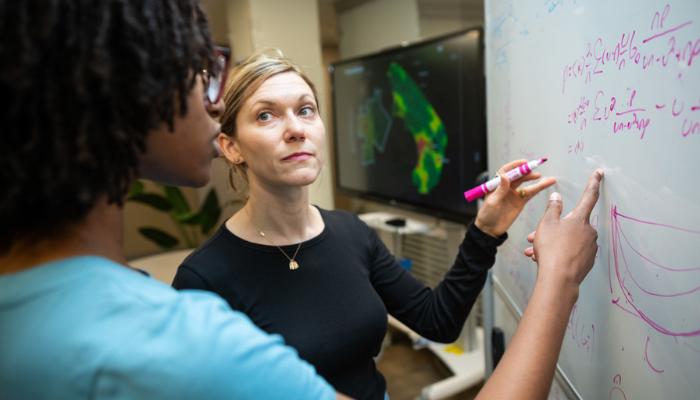 Dr. Bloomfield, a researcher at the intersection of environment and disease, shares, "There is a lack of randomized controlled trials that compare how spending time in nature influences people's mental health compared to more traditional forms of mental health support, like therapy. We think a comparative study is a really unique opportunity to understand the potential benefits of exercise, therapy, and nature on mental and physical health."
Bloomfield adds, "Some common mental health conditions in college students are stress, anxiety, and depression. In this study, we are trying to link a person's perceived wellbeing to their physiologic measures such as heart rate variability, resting heart rate, sleep, and physical activity. Linking someone's perception of their health to their biometrics is important for identifying who is at risk. Hopefully understanding this link will provide an avenue for targeting interventions to those most in need."
Matthew Price, PhD, George W. Albee Green & Gold Professor of Psychological Science, another member of the study team says, "Oura Ring allows us to measure how people are changing their wellness behaviors during these interventions. We can see how physically active someone is via their Activity Score or how well they slept from their Sleep Score. These measures will then allow us to see if and how much being active and sleeping well reduces stress and depression. Hopefully, this information allows us to better tailor these approaches to a specific person."    
Like Bloomfield and Price, Danforth, who researches the impact of social media on happiness and mental health, has been thinking a lot about what it means to be a human in the modern world, focusing on strategies that support health and wellbeing versus strategies we may think are working. 
He says, "How do you figure out as a human being what's going to work? Everyone has an opinion. Mental health, physical health – everybody's got the thing that works for them, to get them to sleep better, to get their child to sleep better, to be happier, and it's all anecdotal. Humans are good storytellers, and we often share our experiences. We trust people that we know and love more than experts. This study is a chance to try and put some validated scientific measures behind all of that social passing on of knowledge and give the students a chance to feel better, and that's really exciting to me."
RELATED: Inside the Ring: Developing Oura's Latest Sleep Staging Algorithm
---
Photo credit for all images: Andy Duback
---
Could your workplace benefit from a new approach to wellbeing? Make wellness measurable, actionable, and attainable for individuals and organizations with Oura For Business.
---
Oura Ring is not a medical device and is not intended to diagnose, treat, cure, monitor, or prevent medical conditions or illnesses.