Oura's mission is to empower our members to take total control of their health from the inside out. The new Share Report feature is the latest way members can manage their health data and share it securely and safely with others, such as trusted healthcare professionals.  
Share Report allows Oura members to download and share their personal Sleep and Daily Movement insights with trusted health partners and providers in an easy-to-digest format created with them in mind. We heard that members were sharing their reports with their clinicians organically, so we wanted to make it an even simpler, more seamless, and most importantly, more secure process. 
Now, with Share Report, you can easily share context into your wellbeing with your primary care physician, psychiatrist, therapist, fitness coach, nutritionist — whomever you choose. (And rest assured that your data is always safe with Oura, a GDPR-compliant company — learn more here.)  
Sharing your report is 100% your decision. It's up to you what to share, when to share, and with whom. The metrics that the report can include are sleep time, wake time, total sleep, restfulness, and movement (inactive and active), and you can choose to show data from the past week, month, or 90 days. ŌURA's Share Report will launch first on iOS, followed by Android.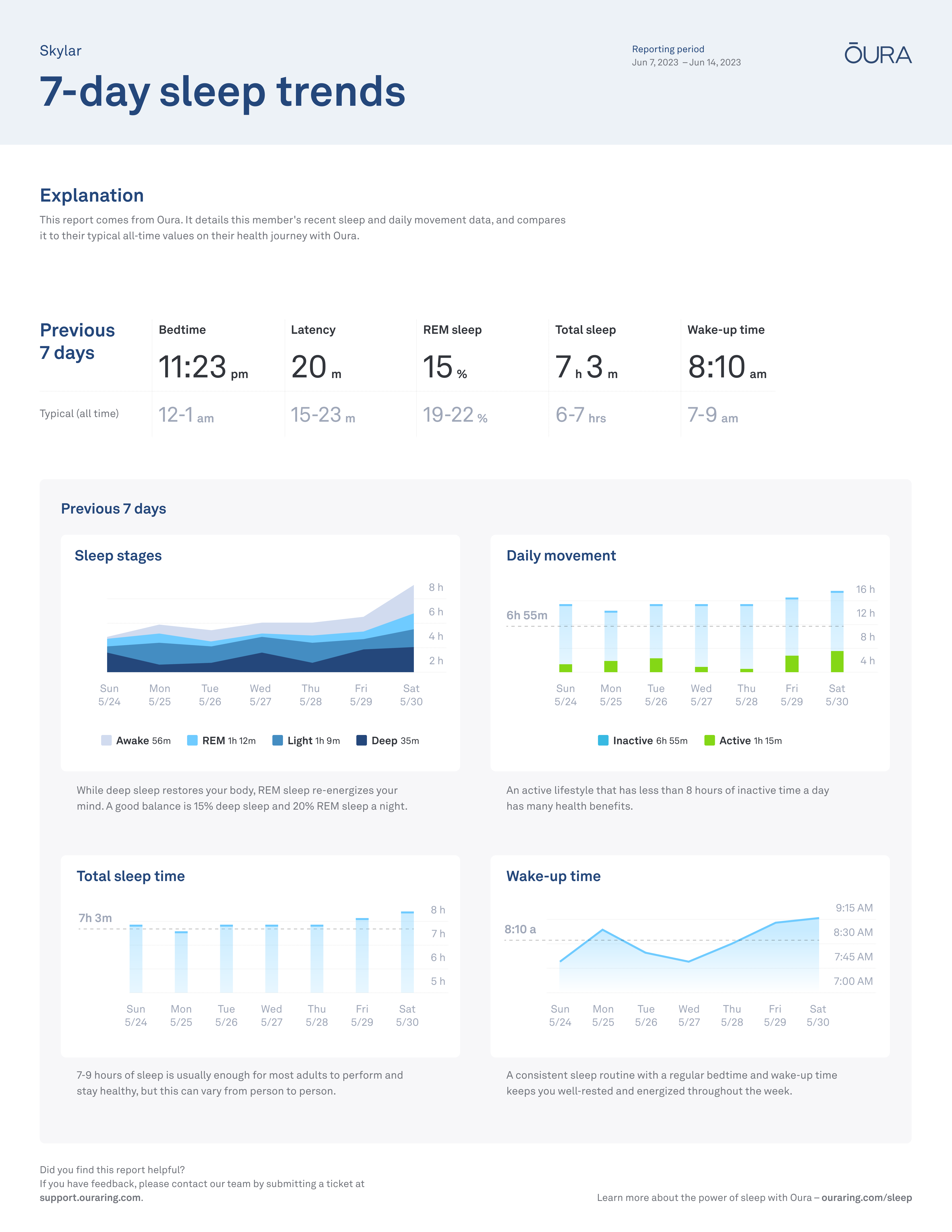 Why share biometric data with a healthcare provider? It can provide greater insights into overall well-being that may not be talked about, setting the stage for important discussions about routines, behaviors and habits that may be impacting health outcomes. 
"As a therapist, it's helpful to have as much information as possible to help my clients. Oura provides valuable insight into sleep patterns, recovery, and movement," says Saumya Dave, MD, a board-certified psychiatrist in New York City. 
"Understanding my clients' sleep and recovery helps me to put everything into context and treat them in a more complete way. Sleep can have a major impact on mental health and vice versa, so it's very impactful to have these additional tools in treating patients."
LEARN MORE: How to Export and Share Your Oura Data  
Oura x Talkspace 
Oura has teamed up with Talkspace to offer their members a way to share personalized sleep data directly with their dedicated licensed therapist through Talkspace's secure, encrypted platform.
This first-of-its-kind partnership, powered by Oura's new Share Report feature, opens up a new way for healthcare practitioners, including behavioral healthcare practitioners, to provide higher-quality care in virtual settings where they often don't have the complete picture of their client's behavior beyond self-reporting. 
Shared insights about a person's sleep quality and daily movement can help clients and practitioners build rapport, ask better questions, understand how a person is progressing in between visits, create more personalized treatment plans, and set goals they can track together.
"Both Oura and Talkspace believe in pioneering new ways of integrating physical and mental health, helping people to improve their quality of life," said Dorothy Kilroy, Chief Commercial Officer at Oura. 
"Oura's Share Report allows practitioners a complete picture of how their patients are doing in between visits. This can have a ripple effect; the more fluent and literate people are about their own bodies, the better equipped they are to have helpful conversations with providers about their mental health and overall wellbeing."
Talkspace's Council of Mental Health Experts were included in Oura's initial focus group testing, and Oura provided Talkspace's network of 4,000+ licensed therapists, psychiatrists, and psychiatric nurse practitioners with training materials on interpreting the data, so they can use it as part of an individual's care. 
READ MORE: Introducing Oura Circles: Connect with Your Community and Reach Your Goals Together
FAQ 
If I opt-in, does my data get automatically shared with my Talkspace therapist?
No, the process is entirely member-led. This means you can choose to create a report with data from the past 7, 30, or 90 days; your data is never continuously or automatically shared. If you decide to download your report, it's your choice to then share it with a healthcare professional (including your Talkspace provider) or not. 
Can I take it back once I've shared my report with a healthcare professional?
Because the report is downloaded and shared as a PDF, there is no way to recall it once it's been sent. However, the information remains static so the only way for a provider to access an updated report is if you choose to download and send it to them directly. 
What is your privacy policy?
We aim to make our privacy policy transparent, clear, and easy to understand and we take the protection of our users' personal data seriously. You can learn more about our privacy practices in our privacy policies and terms of use.