Who: Adrian L., 18, Austria 
Surprising takeaway: Through his Oura insights, Adrian understand the importance of taking time to recover and back off from training, and focus on his mental health. He also used the meditations in the Explore tab to help him keep negative thoughts at bay as he recovered from a knee injury. 
---
Growing up in Austria, Adrian dreamt of becoming a professional football player. In 2020, he began dedicating even more time to his football training and started a fully plant-based diet. However, this eventually led to overtraining, drastic weight loss, and mental distress, followed by two serious knee injuries. 
As he recovered from his surgeries, Oura helped Adrian come back to football faster than expected. Although he eventually had to give up his dream of playing professional football, his newfound interest in health and science — thanks to Oura — sparked a new career goal. Now, Adrian hopes to pursue a career in sports medicine. 
RELATED: How Sleep Helps Muscle Recovery and Growth
How did Oura help you get back on track after overtraining? 

As soon as I joined Oura, my health instantly increased: I recognized the importance of sleep, recovery, and mental health. I was finally able to healthily lose weight, train without fear of overtraining, and recover adequately everyday. I went to bed earlier, stopped drinking alcohol, focused on a balanced vegan diet, and added recovery sessions to my training. I also ate less before bed, removed late training-sessions, put my phone away earlier, and installed a filter for blue light. 
RELATED: How Blue Light Impacts Your Sleep
After your injuries, how did Oura play a role in your recovery?   
In 2020, I returned to football with more power than ever. However, I suffered a meniscus tear in my right knee in October 2020. Oura helped me come back as fast as possible after just 8 weeks after my surgery. Unfortunately, a few months later I suffered another meniscus tear in the other knee. 
Like the first time, Oura really helped me to come back again. I also used the meditations in the Explore tab to keep negative thoughts and doubts away. Again, I returned a few weeks faster than estimated. Unfortunately, my knee didn't work like before and after a few weeks back in business, in April 2022, I was forced to end my career and to give up my childhood dream. 
How did Oura influence your career goals? 
Oura helped me discover my fascination in science, the human body, and nutrition. Now, my plan is to study medicine and to become a sports doctor. Oura has given me meaningful experience and knowledge that I can pass on to other athletes, my brother, or my friends, and which I will definitely need in my future job. 
Which Oura Score do you look at first? 
I look forward to seeing my scores every morning — it feels like a challenge to get better scores every day. First, I check my Sleep Score, because everything depends on the quality and quantity of sleep. Next, I look at my heart rate, my sleep efficiency, and the time I spent in the different sleep stages. Finally, I check my recommended daily calories to burn.  
What has been the most surprising insight you've learned since using Oura?
In 2020, I went vegan and my heart rate and my HFV (herzfrequenzvariabilität is the German term for heart rate variability, or HRV) were at great levels. For example, my resting heart rate was constantly between 34 and 36 bpm.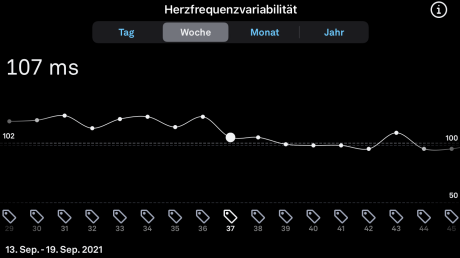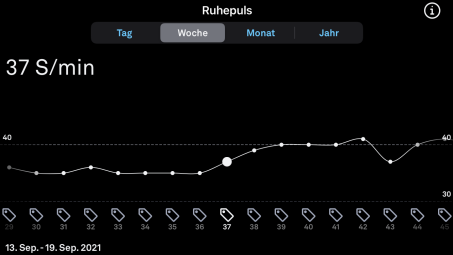 After my injuries (since week 37 in the screenshots above), I started to eat products like meat, fish or yogurt again — and the effects were crazy: My heart rate went up and my HFV decreased instantly! Since then, I haven't yet been able to recreate the scores from before. 
RELATED: What Is the Average HRV of Oura Members?
---
What's Your Oura Story?
Everyone's story is unique, and we'd love to hear yours. Share your story here.