At age 25, Katie Ledecky, an American swimmer from Bethesda, MD, has already become one of the most decorated professional athletes in history. She has won six Olympic gold medals, 14 world championship individual gold medals, and was recently named the Best Athlete in Women's Sports and the Best Olympian in Women's Sports at the 2022 ESPY Awards.
Katie's also an Oura member. She's worn an Oura Ring since 2019, when she wanted to start tracking her sleep and learn how to improve what she was doing outside the pool to help her recover. As well as anyone else, Katie knows that what you do during all hours of the day can have an impact on how you train, recover, and perform — and Oura helps her piece it all together.
---
Q: Congrats on winning two 2022 ESPY Awards: Best Athlete in Women's Sports, and the Best Olympian in Women's Sports! What does this double honor mean to you? 
A: Thank you! I was honored to be recognized for my performance in Tokyo at my third Olympic Games, and I take pride in my consistent athletic performance since my first Olympic Gold a decade ago in 2012. I enjoyed being able to attend the ESPYS show, and I very much appreciated the opportunity to thank my family, coaches, teammates, sponsors, and friends for their support.
Q: You said in an interview that during the Tokyo Olympics, you spent as much time in a swimsuit as you did in bed! How does Oura help you make sure you're getting quality sleep during such a busy and stressful time?
A: In Tokyo, I was racing in the morning and evening, traveling to and from the competition venue, and finding time to eat and sleep. Oura frequently reminds me to keep my sleep schedule consistent, so while in Tokyo, I tried to be as consistent as my schedule allowed with my bedtime and wake-up times. I also knew that to maximize my Sleep Score, I needed to take advantage each day of any free moment for a quick nap.
LEARN MORE: Circadian Rhythms and Your Bedtime
Q: You've had the Oura Ring since 2019 — about 3 years now. How has your use of your Oura Ring and App changed over time? 
A: Oura has added several new features — like 24/7 heart rate monitoring — to the Ring and App, so there is more data to review daily than when I first started wearing the Ring. When I started wearing my ring a few years ago, I usually only looked at the data when I woke up in the morning. Now, I tend to look at the data within the app several times throughout the day.
Since I have had the ring for over 3 years, I also look at my Trends a lot more now. I find it helpful I can easily compare data by day, week, month, or year. I have been able to spot trends in how my body responds to hard stretches of training, and I can see how quickly I recover during and after competitions.
I'm very fascinated by it all, especially when it comes to my training and my competitions. Just to see how my body is recovering, how I'm handling the stress, and the sleep that I get at competitions is really interesting. It's also cool to look back and see how I was recovering during the Olympics or the World Championships.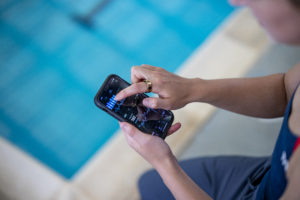 Q: You received a degree in psychology from Stanford. With Simone Biles, Michael Phelps, and other athletes opening up about mental health, how have you seen the conversation among athletes like yourself changing? 
A: Physical and mental health are both important and as an athlete, it's important to go into each day of training and competition feeling well-rested and in the right mental state. I think athletes are sharing more about the challenges they face in sport or in life from a mental perspective as opposed to just talking about physical injuries. I hope all young athletes will take as much care of their mental health as they do their physical health, by making smart decisions and seeking help when needed.
Q: How do you take care of your mental health during training? 
A: When I am at the pool or in the gym training, I am very focused on my training but my teammates and coaches create a positive environment where we're all having fun while still working hard toward our goals. Even when the intensity in training is high, I remind myself to have fun with my team when I'm at workout. Away from the pool and gym, I take care of myself by eating well and getting good sleep and recovery time. Most importantly, I have interests and friends outside of the pool that help me live a balanced life.
Q: What's your number-one tip for other Oura members?
A: Find your balance. Don't just be just focused on one thing. Whether that's swimming, another sport, or one activity, finding a balance between your school or job and your personal life will allow you to succeed.
I've learned so much in both school and swimming, but most importantly, I've learned a lot through doing both at the same time. Being able to learn time management and being able to learn the skills required to compete at the highest level while going to school — I feel that balance has helped lead to my success.
Rapid-Fire Round! 
Must-do morning ritual?
I like to listen to good music on the way to my early morning swim practice.
Nightly ritual for a good night's sleep? 
I make my room dark and cool, and I also like to take a shower just before bedtime.
One bad habit that Oura has helped you cut back on?
I get most of my REM sleep later in my sleep, so the earlier I get to sleep, the more REM sleep I get. So Oura has helped me cut back on going to sleep late!
Mantra you live by?  
Take the lead, keep the lead.
Go-to energy booster for a mid-afternoon slump? 
A power nap!
First thing you do if you see a low Readiness Score in your Oura App?
I think about how I can plan some extra Restorative Time, or a nap, into my day. I also try to get to bed a little earlier the next night.
Favorite ways to rack up Restorative Time on your Oura App? 
Reading, watching a good TV show, or playing the piano.