How much total sleep do you get each night? Do you sleep better on the days you exercised or the days you rested?
As humans, we rely heavily on our memory, so there's a chance our answers to these questions might be a little inaccurate. It may be hard to admit, but our perceptions don't always line up with our body's reality.
With Trends, you can fact-check your perceptions by comparing them to your body's sleep, activity, and readiness patterns. If you're viewing trends through your Oura on the Web dashboard, you can add another layer by comparing two variables (i.e., Deep Sleep vs. Bedtime) to gain deeper insights.
View Your Trends with Oura
To view your Trends in the Oura app:
Tap the menu (≡) icon in the upper left-hand corner of the Oura home tab.
Select "Trends."
Select the Sleep, Readiness, or Activity tab.
Click on a metric (e.g., "Activity goal completion") to view your data over time.
Select the Daily, Weekly, or Monthly time period.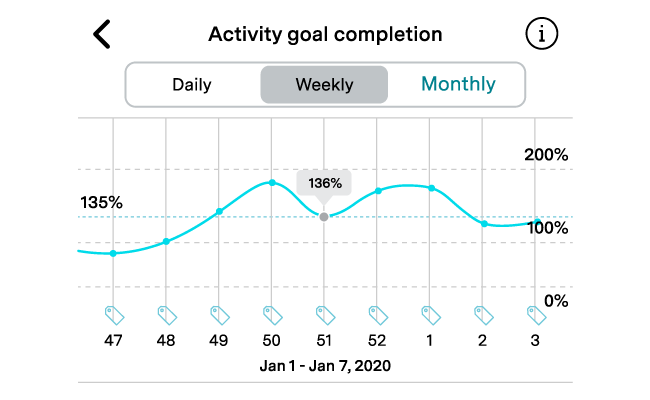 View Your Trends With Oura on the Web
Go further and compare two variables on your desktop with Oura on the Web. To channel your inner detective and discover correlations within your data:
Log into your Oura account.
Select "Trends."
Choose the date range (via the dropdown or by dragging the highlighted area on the timeline).
Choose the unit of time by selecting Daily, Weekly, or Monthly.
Select the first variable on the left, above the graph.
Select the second variable on the right, above the graph.
Compare the two and identify correlations.
Below you'll find a graph comparing Total Sleep and Readiness Score using Oura on the Web. The values displayed are daily averages that span a period from mid-December to mid-January.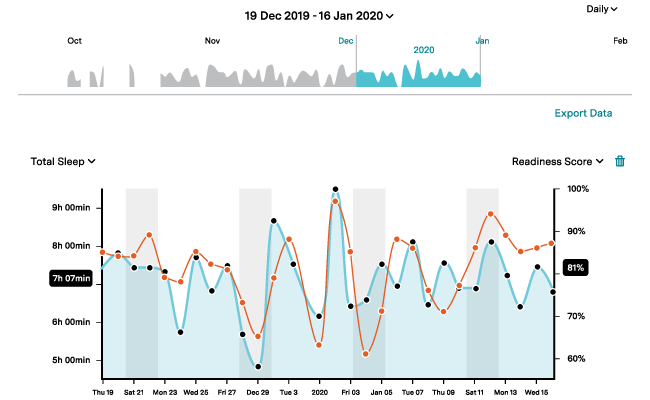 You can see that, on most days, as Total Sleep increased, the Readiness Score increased, which indicates that more sleep may yield higher Readiness.
Within the graph, you can mouse over individual values or use the averages highlighted in black on either side of the graph to navigate your data. These represent your averages for the selected time period. For example, the average Total Sleep time for this period was 7 hours and 7 minutes.
If you like raw data and you love spreadsheets, you can export your data as a CSV file by clicking "Export Data" above the graph on the upper right.
Always on the go? Use Trends in the Oura app.
Addicted to data? View Trends with Oura on the Web. Get into the numerical trenches by exporting your data. Explore the many facets of Trends and start informing your reality.