Before You Begin
To set up and start using your Oura ring, you will need an iPhone with the latest iOS software, or an Android device with the latest Android OS.
1. Unbox Your Ring
Your Oura ring set includes an Oura ring, charger, USB cable, and a quick start guide. The USB cable plugs into a standard USB type-A power brick that is included with most mobile devices.
2. Charge Your Ring
You will need to charge your ring before using it.
Place your ring on the charger. When the light begins blinking, your ring is charging. When the light stops blinking and stays lit, your ring is fully charged. A full charge may take up to 80 minutes.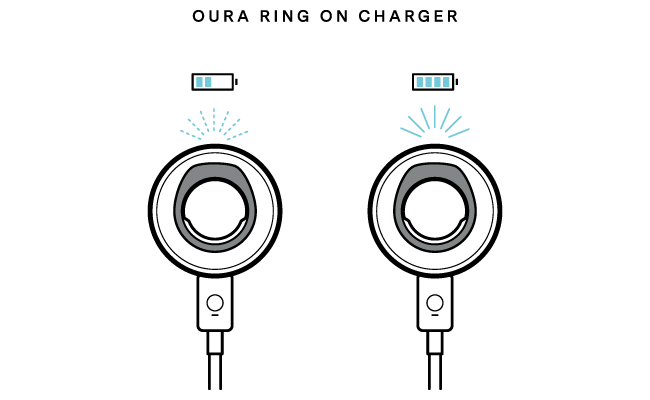 3. Install the App
Download and install the Oura app for iOS or Android.
Follow the instructions in the app to create your Oura account and pair the ring with your phone. You will need a secure Bluetooth connection to pair your device.
Check the status of your ring's battery in the Oura app by tapping the two circles in the top right-hand corner of the Home tab. If these circles appear in red, your ring's battery is low and requires a charge. You may view the battery level of your ring by tapping on those two circles at any time.
4. Begin Wearing Your Ring
Once your ring is charged you may begin wearing it. To ensure accuracy, make sure the three sensors on the inside of your ring rest on the palm side of your finger. The graphic below shows the right way to wear your ring.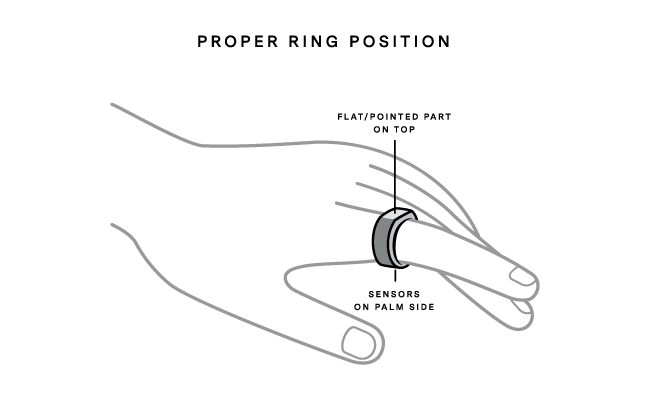 You can wear the ring on either hand, but if you choose to wear it on your dominant hand, your step count may be higher. The ring is water-resistant up to 100 meters (300 feet), so you can wear it in the shower, hot tub, or pool.
5. Check Your Insights
After the first full night of wearing your ring, you will begin seeing your Sleep, Readiness, and Activity scores, along with other personalized guidance.
During the first few weeks of ring use, your baselines are formed. After these are established, your guidance from Oura will become even more personalized. Note that some insights, such as Ideal Bedtime, take time to develop. Once Oura gets to know you better, these insights will begin to appear.
For deeper analysis, you can access your trends and download your data through your web browser here.