Who: Elina Berglund, PhD, 39, New York City
Surprising Oura insight: I have a very low resting heart rate when I sleep. It's often below 40!
---
Berglund, a particle physicist originally from Sweden, is the CEO and co-founder of Natural Cycles, the first FDA-cleared birth control app, which provides women with the technology to better understand and take control of their fertility without the common side effects experienced on hormonal birth control.
Berglund started her career at the European Centre for Nuclear Research (CERN) and was part of the Nobel Prize-winning team who discovered the Higgs Boson particle. Her career transitioned from particle physics to reproductive health after seeing how sparse the options were for women when it came to non-hormonal birth control.
With a deeply ingrained love for science and data, Elina understands the importance of sleep for hormonal health and beyond. Elina has been an Oura member since 2016, long before Natural Cycles and Oura joined forces. 
READ MORE: How to Use Natural Cycles with Oura
What inspired you to transition from particle physics to reproductive health?
I actually came up with the idea for Natural Cycles birth control when starting to think about planning my own pregnancy. I had been using a birth control implant throughout most of my twenties after a negative experience with the birth control pill. I wanted to take a break from hormonal birth control to give my body a chance to get back to its natural state well before a pregnancy. 
I realized it was extremely limited when it came to birth control which was non-invasive and non-hormonal. So I took things into my own hands!
What originally brought you to Oura?
I've been an Oura member since 2016. I heard about Oura early on because of the nature of how it worked – particularly its use of Temperature Sensors. I started using it to test if the data quality was good enough to be used alongside Natural Cycles (NC°). I was incredibly intrigued and excited to try it myself given how committed I've been as a scientist to using temperature data to unlock insights into women's fertility.
READ MORE: How Accurate Is My Oura Temperature Data?
Tell us more about the Natural Cycles and Oura integration.
Natural Cycles is an FDA-cleared, non-hormonal, non-invasive birth control method. It helps women around the world prevent or plan pregnancy naturally by using their body temperature to determine each user's daily fertility status. You measure your temperature every day and add it to the app, and the algorithm will tell you where you're at in your cycle. Now, it's integrated with Oura, so your temperature is automatically measured and added.
Start your free one-month trial with the Oura + Natural Cycles integration here.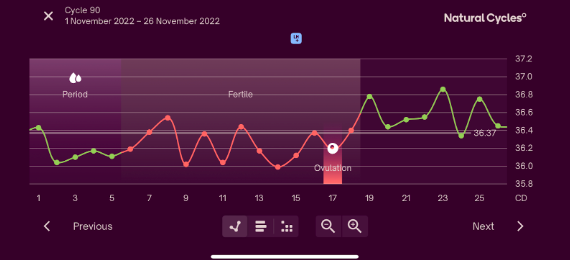 There are various modes of the NC° app that are all compatible with Oura: NC° Birth Control, NC° Plan Pregnancy, and NC° Follow Pregnancy. Depending on what your reproductive goals are, you can choose which mode to have on the app and switch easily when you want to change your goal.
There are also other modes that you can use on Natural Cycles with Oura: NC° Recovery Mode is for women who experience a miscarriage. This mode helps guide them through the emotional and physical recovery. This could be used in alignment with Rest Mode on Oura.
NC° Partner Mode helps share responsibility by giving users the power to share selected data with their partner. We hear amazing feedback from these partners that it taught them so much – so for male Oura members looking to be involved in their partner's reproductive journey, this is a great option.
What's an interesting insight you've learned about your health since using Oura?
I am a very heavy sleeper and have always needed quite a bit of sleep. I discovered through my Oura Ring that I have a very low resting heart rate when I sleep. I often have a resting heart rate (RHR) below 40 and a heart rate variability (HRV) above 100. I'm hoping that this means that I will live a long healthy life!
I've also noticed the effect alcohol has on my resting heart rate, and although I love a glass of wine at the end of the day, I try not to drink any alcohol after 8 pm.  
READ MORE: How Does Alcohol Impact Oura Members?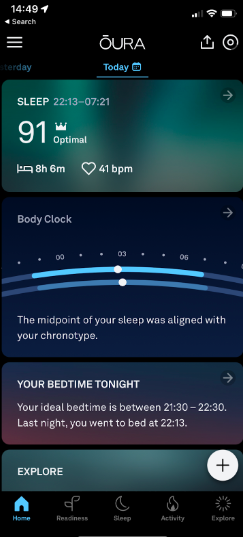 How do you maintain such good Sleep Scores as a busy mom and CEO? 
I really prioritize sleep, since I know that I will not be able to be on top of my game as a CEO or a mom if I don't get enough sleep. Because of this, we do have quite a strict routine since becoming parents — both our children and ourselves follow a daily rhythm and rarely deviate from it. This means that even though I'm an evening person, I make sure to go to bed early most nights since I know I need to get enough hours of sleep.
I used to wish I could be the female CEO who woke up at the crack of dawn and accomplished a million tasks before most people woke up, but I've embraced that's never going to be me. My body needs sleep, and I'm actually not a morning person. I sleep until the last possible moment before my children wake up, make them breakfast, and spend some time with them before I get my workday started.
As the CEO of a company that promotes listening to one's body, I can't stress how important it is to take care of your mind, body, and health. It's so easy to get swept up in work, so carve out time for yourself and take a moment to breathe. You can't do your best work if you aren't your best self.
What's your advice for women who are considering a more natural approach to their reproductive health?
It can feel a bit overwhelming at first – mostly because most of us were never taught about how our bodies work or reproductive health basics. So it's important to be patient with yourself. I was taught so little about my reproductive health growing up. It wasn't until I was much older that I realized how powerful our bodies are and the science behind the cycle.
We hear from women all the time that they were well into their 30s and trying to become pregnant before they realized they could only get pregnant six days every cycle. Once someone starts using Natural Cycles and discovering how their body and cycle work, it becomes much less daunting and they realize that understanding their bodies and cycles can be truly empowering.
Start your free one-month trial with the Oura + Natural Cycles integration here. 
---
What's Your Oura Story?
Everyone's story is unique, and we'd love to hear yours. Share your story here.