Using Oura and OWN IT, women's volleyball coaches at

Utah State University have increased heart rate variability (HRV) of student-athletes by 15.8%.

Players experienced an 8.5% reduction in their average resting heart rate (RHR).

Sleep patterns improved, with 55.9% of total sleep time spent in restorative sleep stages.
---
For student-athletes, maintaining overall health and wellbeing is a challenge – they juggle intense training, grueling travel schedules, and academic responsibilities, all while trying to achieve peak performance. To thrive under these conditions, players must be in the best possible physical and mental shape.
At Utah State University, Head of Olympic Strength and Conditioning Coach Jimmy Stitz has found a unique approach to student-athlete health and wellness, transforming the way his team prepares for, and recovers from, rigorous training and competition.
Oura Ring x OWN IT: A Game-Changer in Athlete Health
After winning gold with USA Volleyball at the 2020 Tokyo Summer Olympic Games, Coach Stitz joined the athletics department at Utah State. "When I got to Utah State, the coaching staff agreed that we needed a way to assess how our athletes were recovering and responding to our programming." Based on his recent experience improving recovery for US national team athletes, Coach Stitz recommended that Utah State invest in Oura and the OWN IT Coaching System. 
"When I explain to athletes why Oura is the best, in my personal opinion, it comes back to form, function, and placement. I learned there is no better place to measure biometric readings than on one's finger. It has to do with the Oura Ring being designed to measure from the palm side of your finger, where the pulse signal is strongest — much stronger than from the wrist."  
Coach Stitz leverages Oura with the OWN IT Coaching System to provide student-athletes with personalized insights and habit recommendations to guide them towards more efficient recoveries, increased capacity, and optimized performance. This system empowers athletes to make informed decisions, and develop personalized strategies to enhance their performance and recovery.
"The best recovery program isn't the one that I write up or looks really nice; it's the one that each athlete is willing to do consistently. These tools help each athlete determine what works and what doesn't," Stitz explains.
Coach Stitz's recommendation was reinforced by Chloe Hirst, Associate Head Coach at Utah State. "As someone who is invested in health and nutrition, I understand that sleep is a huge part of this, too. I found the data from my Oura Ring really reaffirmed how important routine and structure are for me, and OWN IT has taken it to the next level by providing the 'what's next' guidance through group performance huddles and 1:1 habit coaching."
EXPLORE: Oura Q&A With Professional Beach Volleyball Players & Olympians Alix Klineman & April Ross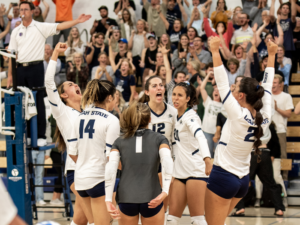 Impact on Utah State Athletes
Since introducing Oura and OWN IT into the Utah State Women's Volleyball program, coaches Stitz and Hirst have witnessed remarkable transformations in athletes. After just six weeks of measuring biometrics, the team experienced a substantial 15.8% increase in heart rate variability (HRV). Additionally, the athletes experienced an 8.5% reduction in their average resting heart rate. Both HRV and resting heart rate are crucial indicators of overall fitness and recovery.
The athletes' sleep patterns also significantly improved, with 55.9% of their total sleep time spent in restorative sleep stages.
RELATED: How to Train Better Using HRV
Building for the Future
Coach Stitz is enthusiastic about the future of student athlete health and performance at Utah State. "We're excited to have more informed conversations about holistic health and our athletes have shown an amazing commitment to this process. Having data will help us make better decisions over time."
---
LEARN MORE:  How OWN IT Works with Oura in Athletics
---
Could your workplace benefit from a new approach to wellbeing? Make wellness measurable, actionable, and attainable for individuals and organizations with Oura For Business.