Basketball has no shortage of legendary players who've become household names. And after 17 seasons in the NBA, veteran point guard Chris Paul has joined their ranks as one of the most accomplished players in the league. Chris, also known as "CP3" or "The Point God," has won two Olympic gold medals, has been named Rookie of the Year and All-Star Most Valuable Player, and leads the NBA in steals a record six times.
Originally from Winston-Salem, NC, Chris played two years for Wake Forest University before joining the NBA, where he currently plays for the Phoenix Suns. Oura has been a staple in guiding Chris's training for the last two years, after he was introduced to it as a safety protocol during the early days of the pandemic. 
Read on to learn how Chris — a husband, father of two, and leader on-and-off the court — uses Oura to make sure his health is on point.
How were you first introduced to Oura? 
As part of the restart of the 2019 to 2020 season [during the Covid pandemic], the NBA and the NBPA and the players were all working together to figure out ways to protect player safety. Since Oura measures pulse, activity, heart rate, and temperature trends, it was the perfect complement to all of the other health and safety protocols we were taking. I began working with Oura more officially in March 2021.
READ MORE: Oura Partners With the NBA as the Season Resumes
Which Oura Score do you check first thing in the morning? 
I always check my Readiness Score when I wake up. I want to see a snapshot of how I can expect to feel that day. Then if I see something off, I like to dive in further, first to the Sleep Score, to see how well I slept the night before.  
I have a few group chats where we share Oura Scores. If something is off, I immediately let my team — my trainer, my tissue specialist, my brother — know that we have to work on it.
Which Oura Ring are you wearing now? 
The Rose Gold finish for the new Oura Horizon definitely caught my eye. It's a timeless statement piece that also blends in well with my personal style.
WATCH: Chris rocks the Rose Gold Horizon in our latest campaign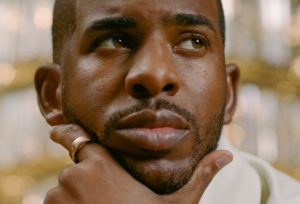 How does Oura data help you prepare on game day? 
I have so many routines that at this point, my routines have routines. My data from Oura is an important piece to the puzzle which includes my lifts, strength training, shooting, and diet. If I see maybe I'm lacking in an area, I know I need to work to compensate.  
As a father, husband, son, pro athlete, and a leader on and off the court, your time is precious. How do you practice finding balance and reducing stress?   
Balance is so hard to find, you just have to do the best you can in what you're doing and be as present as possible. I have a great team that helps me manage my time. I am lucky to have such a great support system.
My kids also help me stay grounded. They put things in perspective when there is a lot going on. They are my world.
What is your #1 piece of advice for aspiring athletes? 
You can't replace hard work. Always show up prepared and know you did everything you did to control what you can control.