Results are now available in npj Digtal Medicine from the National University of Singapore (NUS)'s recent study exploring the power of combining data from multiple sleep research tools.
The study highlights Oura's exceptional participant compliance rate (89%) while also exploring the benefits of pairing Oura Ring data with phone usage stats and sleep diaries to identify individuals with similar sleeping patterns that would benefit from receiving specialized advice on how to improve their sleep.
Read the full study in npj Digital Medicine or read the key takeaways below.
Study Design
Professor Michael Chee led a team at  Centre for Sleep and Cognition at the Yong Loo Lin School of Medicine, 198 young adults were recruited for a 2-month long study.
Sleep was measured using three sleep research tools:
The Oura Ring
A smartphone app that logged individual phone usage
An electronic sleep dairy
What Did They Find?
While all three tools primarily agreed upon sleep estimates, 23% of nights resulted in disagreements that intrigued the researchers.
Dr. Chee's team explored these nights and found that comparing sleep and phone usage data provided interesting insights that could help 'sort' participants into groups with similar behaviors.
After performing a cluster analysis, they identified three distinct groups:
Group 1: Mostly younger undergraduates who tended to use their phones immediately before bed, had later bedtimes (3AM), and slept less overall.
Group 2: Slightly older individuals who had the lowest phone usage and slept longer.
Group 3: Mostly mature students or staff who used their phones frequently but had more traditional bedtimes.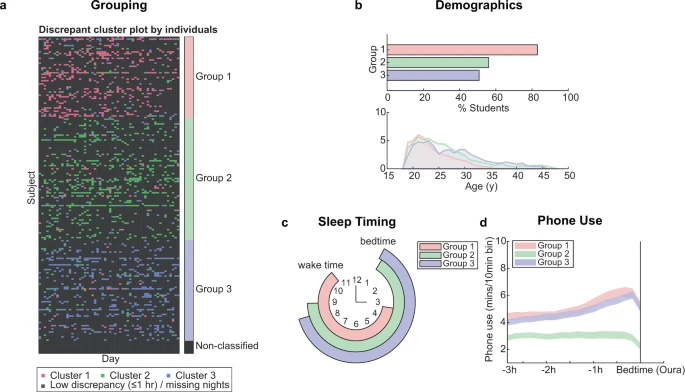 What's Next?
By discovering groups with similar behaviors, researchers can eventually serve personalized sleep recommendations and confirm that patterns from smaller sleep lab research studies can be duplicated "in the wild" with larger populations. For example, Group 2 uses their devices less and sleeps for longer, showing a consistent pattern with past studies on how device usage can negatively impact sleep.
Lead researcher, Dr. Chee, comments on how this work has the potential to impact people's sleep in the future:
"One of our main motivations is to identify these different groups of people with similar sleep habits to find out how we might motivate them to behave differently. The idea would be to tailor the advice that you give to people rather than giving sweeping advice. Help people with goals they can really achieve. A college kid can't realistically sleep 8 hours but you can give them other advice that they might respond to. You could teach them about how their phones negatively impact their sleep so close to bed and help them make small changes."
Learn More
Follow Dr. Chee's lab on their website.