On Sunday, December 18, the electrifying World Cup final between Argentina and France served as a fitting end to the dramatic 2022 tournament. Viewers from all over the world tuned into the epic match, in which Argentina triumphed over France on penalties (4-2) after a 3-3 tie lasting over 120 minutes. 
It's a fair assumption that fans' heart rates rose at pivotal moments during the thrilling game. But how did the final really affect Oura members' biometric data in the competing countries? 
To find out, Oura's data science team analyzed anonymized heart rate data from Oura members in France and Argentina — here are the results:
Oura Members' Heart Rates During World Cup Final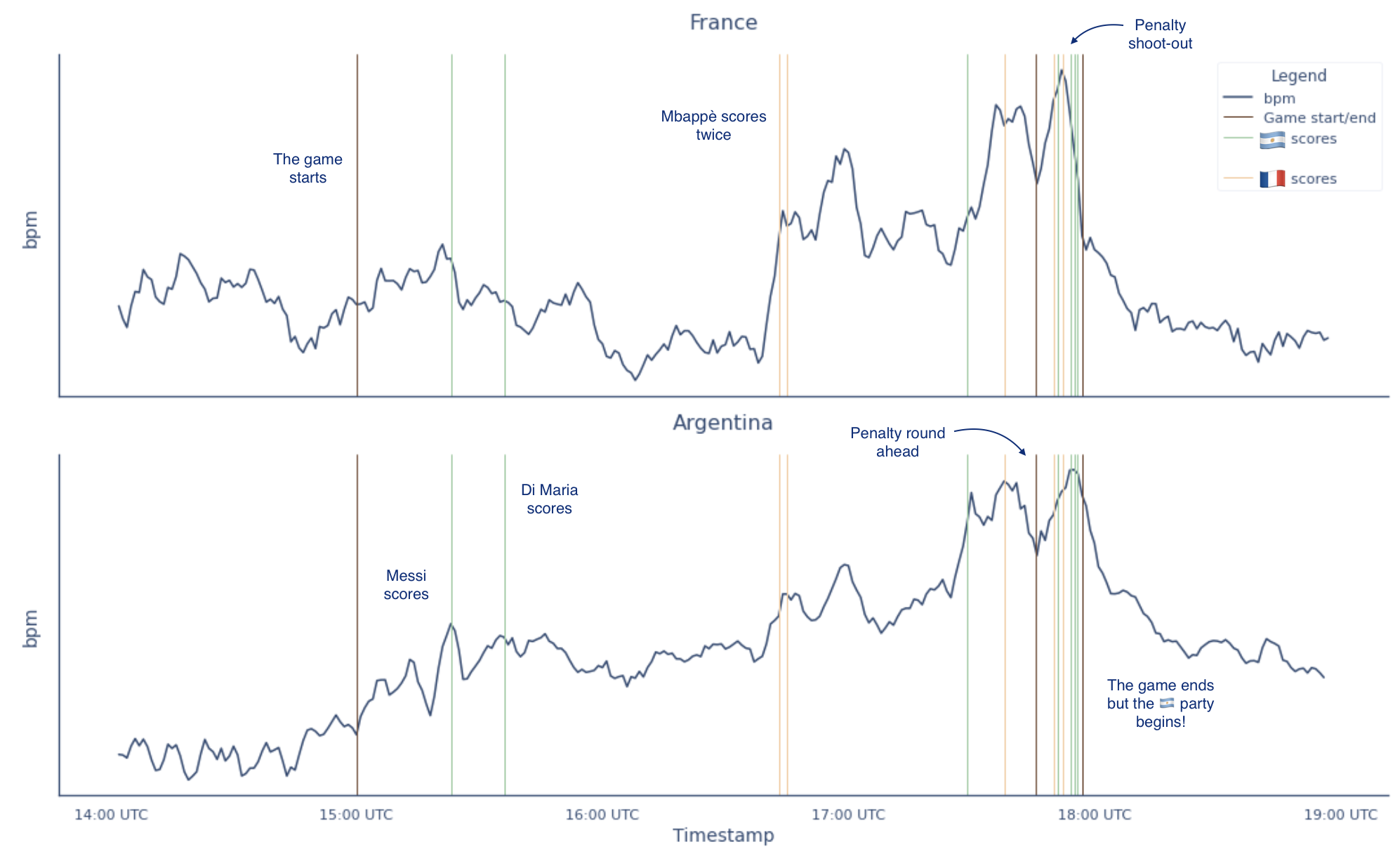 As these graphs show, Oura members' heart rates in both countries fluctuated throughout the match, rising at pivotal moments and falling in between. Messi's first goal for Argentina resulted in an increase in heart rate in both countries, though France's was less of a sharp spike. On the other hand, Mbappé's set of two goals sent France's heart rates sky rocketing, while the rise was less pronounced yet still significant in Argentina.
Finally, following a drop in heart rate as the two countries awaited the penalty shoot-out, both countries' members' heart rates rose to their highest points during the exciting penalty shootout in the final minutes of the game, which ultimately led Argentina to victory. The post-game elation for the Argentina fans also showed up in the data with continued higher heart rates than France, where the disappointed fans' heart rates dropped significantly more in comparison.
RELATED: What Is the Average Resting Heart Rate for Oura Members?