FitOn, a leading digital wellness platform that offers a wide variety of premium content and unique social experiences, has partnered with ŌURA to offer an exclusive experience designed to support your Activity, Readiness, and Sleep scores – at no cost. 
With FitOn, you can work out anywhere with celebrities and world-class trainers who will motivate you to reach your goals. FitOn's 15 million+ member community is committed to movement, mindfulness, and motivation. 
Below, hear from FitOn trainer Breann Mitchell about her experience with Oura, and get a peek into the Oura x FitOn content.  
---
Who: Breann Mitchell, 41, Los Angeles, CA 
Surprising Oura insight: I have always been a "good sleeper," but I noticed early on that my REM sleep was lower than optimal level. Over the last 3 years, I've been able to tweak my habits and routines to increase this portion of my sleep and, in turn, improve my health and performance. (More on this, below!)
---
Breann Mitchell knows that sleep is the key to her daily fitness regimen. One of FitOn's talented trainers, Breann has over 20 years of experience in the fitness industry as a group fitness instructor and personal trainer. She believes that daily movement is a key component to improving your mood, bettering your health, and achieving an overall happier life. 
How has using Oura had an impact on your own health journey? 
I have worn my Oura Ring every day since 2021! As a fitness professional, I know the importance of sleep, so it was imperative that I invest in a device that could help me track and optimize my sleep for recovery and overall health. 
What led you to Oura? 
I am a big fan of metrics, so this was a huge draw for me. Not only does Oura show me my daily activity, but it also provides sleep and temperature trend data that I find to be super helpful for understanding what is happening in my body day-to-day. I also loved the sleek design of a ring vs. a watch wearable that traditionally gave me a rash on my wrist. 
As a FitOn Trainer in tune with your health, what are your tips for Oura members to improve their activity? 
Find workouts that you love: This is the key to sticking with it long-term!

Forget motivation and focus on consistency: This is how movement becomes a HABIT! This is where you will see the most success long-term.

Prioritize strength training: Muscle mass is so important for our health and longevity. 

Don't get lost in the details: Find a program you love, commit to pushing play, and stay consistent. Consistency over perfection always WINS! 
Breann's Tips for Great Sleep:
Get 10-20 Minutes (at least) of sunlight first thing in the morning

Try to cut caffeine after 2pm (Oura's

Experiments

feature is great for this!)

Wear

blue light

-blocking glasses when at your computer during second half of the day

Change your phone

settings

to reduce blue light, starting at 6pm

In the evening, turn down bright lights around your house

Keep your room at a cool temperature during sleep

To unwind in the evening, include meditation and journaling into your routine 
RELATED: 5 Ways to Upgrade Your Sleep Hygiene
Workouts to Boost Your Activity Score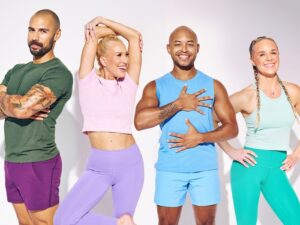 Ready to boost your Activity Score and feel great doing it? Whether you're looking for a blissed-out yoga flow or a muscle-toning workout, you'll find them in the FitOn app. Get started to check out the Oura x FitOn experience. 
Meditations to Support Your Readiness & Sleep Scores
From perfect morning meditations to help you prepare to tackle the day to meditations to help you prepare for a restful night's sleep, try these FitOn meditations to support your Sleep and Readiness scores. 
LEARN MORE: Can Meditation Help You Sleep?
Choose Wellness, Everyday  
By prioritizing quality sleep, quieting your mind through meditation, and staying active, you can cultivate the foundation for physical and mental wellbeing. These habits, when consistently woven into the fabric of our daily experience, empower us to lead healthier, happier, and more vibrant lives.