Just as there are certain foods and drinks that can disrupt your sleep (looking at you, alcohol and caffeine), there are also some sleep-inducing foods and drinks that can aid in your quest to sleep more soundly.
The formula for a perfect bedtime snack: Pair protein with easy-to-digest carbs. This combo keeps you satiated and contains helpful nutrients for sound sleep. If you can tolerate dairy, add some in for a calcium boost. Not only does calcium help the brain convert the amino acid tryptophan (found in many proteins) into melatonin (the sleep hormone), but it also helps your brain produce serotonin, a calming hormone, when combined with carbs and protein. 
While you'll still want to avoid big meals before bedtime (here's why), you have the green light to whip up these tasty bedtime snacks the next time the midnight munchies strike.
READ MORE: 8 Foods and Drinks For Better Sleep (And The 4 To Avoid!)
Sleep more soundly and feel more refreshed with Oura
Shop Now
Recipes are repurposed from Melatonin: The Natural Supplement for Better Sleep 
Bedtime Snacks for Better Sleep
1. Date Nut Bites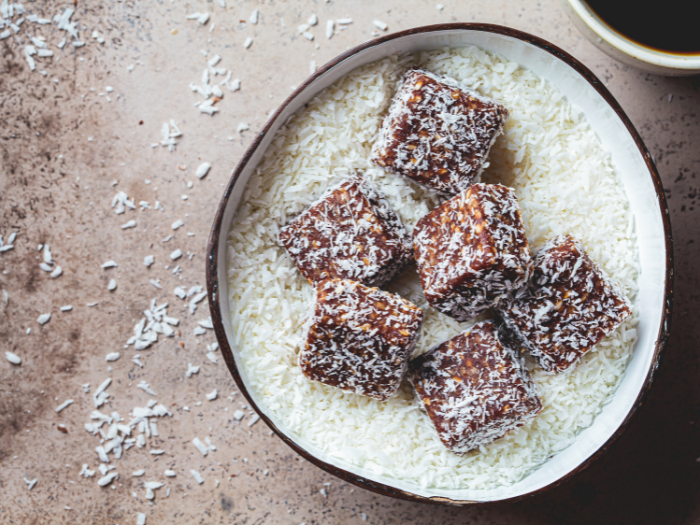 Sleep-inducing foods: walnuts, oats, cacao, flaxseed, dried fruit, almond butter, cacao
Yield: 18 servings
Sticky-sweet dates and toasted nuts are a match made in heaven. Feel free to swap in toasted almonds or pistachios for the walnuts, or try peanut butter instead of the almond butter. The only non-negotiable? The crunchy, chocolatey cacao nibs on top. 
Ingredients
3 tablespoons rolled oats

⅓ cup toasted walnuts

3 tablespoons cacao powder

½ cup shredded unsweetened coconut

3 tablespoons ground flaxseed

½ teaspoon kosher salt

½ teaspoon cinnamon

10 pitted deglet noor dates (or 6 pitted medjool dates), soaked in hot water for 15 minutes

¼ cup unsweetened almond butter

1 tablespoon almond or oat milk

1 teaspoon cacao nibs
Preparation
Line a 8.5 x 4.5-inch loaf pan with parchment paper, leaving a 3-inch overhang on both sides. Preheat the oven to 325ºF.
Place the oats in the bowl of a food processor and pulse into a fine meal. Add the walnuts and pulse until very finely chopped. Add the cacao powder, coconut, flaxseed, salt, and cinnamon and pulse until just combined. Add drained dates and almond butter and pulse a few times, until dispersed, then continue to pulse until the mixture is combined. Pulse in almond or oat milk.
Press mixture firmly into the prepared loaf pan. Top with cacao nibs. Cover mixture with overhanging parchment paper and refrigerate until set, about 1 hour. Remove from the pan by lifting the edges of the parchment paper. Cut into 18 squares.
Store bars in a sealed container in the refrigerator for up to 1 week, or in the freezer for 3 months. 
2. Avocado Chocolate Mousse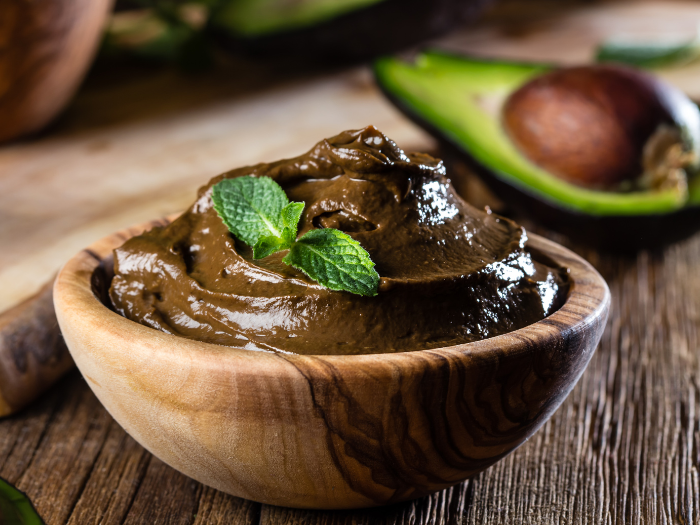 Sleep-inducing foods: cacao, almond milk, avocado 
Yield: 2 servings
When mixed with melted chocolate and maple syrup, buttery avocado blends into a mousse worthy of any fancy French bistro. Add whipped cream if you'd like, but all this dessert really needs in a handful of toasted almonds for a bit of crunch.
Ingredients
2 ounces bittersweet chocolate, chopped 

2 tablespoons room temperature almond milk

1 avocado, halved and pitted

1-2 tablespoons maple syrup

1 tablespoon cocoa powder 

½ teaspoon vanilla extract

Pinch kosher salt

Flaky sea salt, optional

Chopped toasted almonds, optional
Preparation
Melt the chocolate in a heatproof bowl in the microwave or over a double boiler. Let cool slightly and whisk in almond milk. 
Combine the cooled chocolate mixture, avocado, 1 tablespoon maple syrup, cacao powder, vanilla extract, and kosher salt in a food processor or high-power blender. Blend until smooth. Taste and add the second tablespoon maple syrup if desired.
Divide the mousse between two cups. Serve immediately, or refrigerate for at least two hours (or up to overnight) for a thicker consistency. Before serving, top with flaky sea salt and chopped toasted almonds if using.
3. Smashed Avocado Crackers With Sunflower Crumble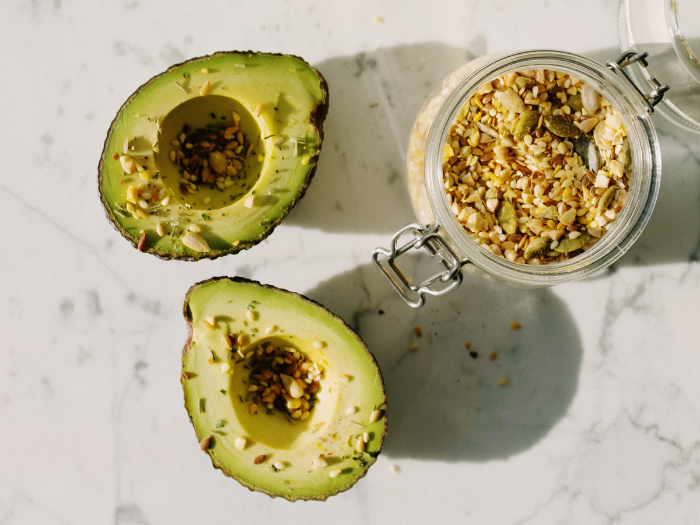 Sleep-inducing foods: sunflower seeds, avocado, tomato, dairy, whole wheat crackers
Yield: 2 servings
These smashed avocado crackers, with sweet cherry tomatoes and salty feta, will satisfy any late-night salty cravings. Though it may seem annoying to break out the food processor at the end of the night for seeds, the spiced sunflower-nutritional yeast crumble is hands-down the best part of this snack. 
Ingredients
¼ cup toasted sunflower seeds

2 teaspoons extra virgin olive oil, plus more for drizzling

2 teaspoons nutritional yeast

¼ teaspoon cumin 

¼ teaspoon kosher salt

1 avocado, halved and pitted

4 cherry tomatoes, thinly sliced

1 tablespoon crumbled feta

4 Wasa crackers, or another firm whole wheat cracker

Freshly cracked black pepper
Preparation
Combine the sunflower seeds, olive oil, nutritional yeast, cumin, and salt in a food processor and pulse a few times until the seeds have broken up a bit.
Smash ¼ avocado onto each cracker. Divide the sunflower crumble evenly among the crackers. Top each cracker with the sliced tomato and feta, season with salt and black pepper, and drizzle with olive oil.
4. Peaches and Cream Smoothie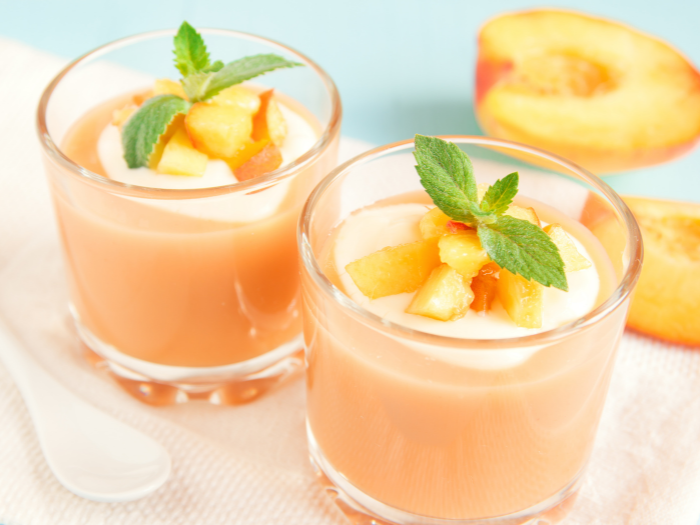 Sleep-inducing foods: peach, almonds, dairy, flaxseed
Yield: 1 serving
Baking peaches makes them taste even more peachy, even if you're not using super-seasonal fruit. Blend them up with yogurt and cinnamon for a drink that's basically a liquified peach cobbler. 
Ingredients
1 large yellow peach, sliced

1 teaspoon honey

Pinch kosher salt

¼ cup almond milk

¼ cup 2% Greek yogurt

1 tablespoon ground flaxseed

¼ teaspoon cinnamon
Preparation
Preheat the oven to 400ºF. Toss the peach slices with honey and salt, and bake for 10 minutes. Let cool.
Combine the cooled peaches and remaining ingredients in a high power blender and blend until smooth. Pour into a glass and drink immediately. 
5. Golden Milk Latte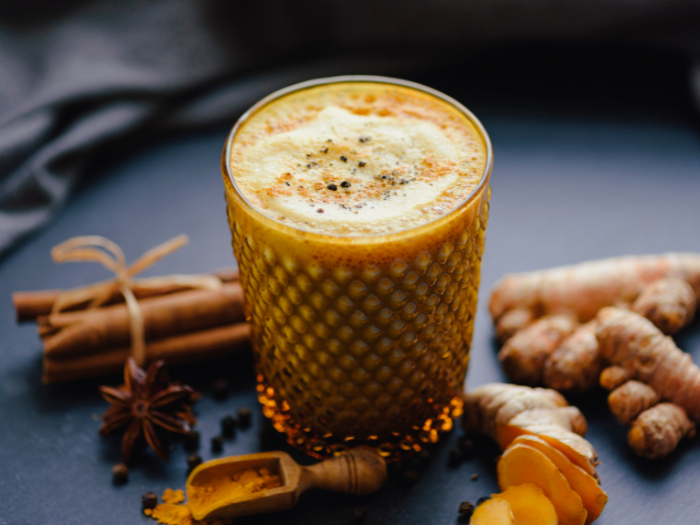 Sleep-inducing food: Almond butter
Yield: 1 serving
Here's a cool thing: when you blend almond butter with water, it instantly becomes a toasty almond milk. And better yet, if you mix that milk with warm spices like turmeric, cinnamon, ginger, and black pepper, you've got a sweet, subtly spicy drink you'll want to curl up with before getting ready for bed.  
Ingredients
2 tablespoons almond butter

¼ teaspoon turmeric

¼ teaspoon cinnamon

¼ teaspoon ground ginger

Freshly ground black pepper

1 teaspoon honey
Preparation
Combine the almond butter, turmeric, cinnamon, ginger, and a pinch of pepper in a high power blender with 1 cup water. Blend until mixture is smooth and frothy.
For an iced drink, blend in honey, then serve in a glass over ice. For a hot drink, heat mixture in a small saucepan over medium low heat until it simmers, let cool slightly, then stir in honey. Pour into a mug and drink immediately. 
RELATED: 9 Science-Backed Herbs and Supplements for Better Sleep