Who: Witold and Renata, both 26, Luxembourg
Surprising insight: With Oura, Witold has noticed that certain factors — alcohol consumption, late nights, and over-active days (which he often has as a frequent traveler) — hurt his Sleep Score, as to be expected. However, he's also observed that late-afternoon or evening caffeine doesn't seem to impact his sleep, which he was surprised to learn. 
Their proposal story:
"In early 2022, we decided that it was time to get married," Witold tells us. "By that time I was already a convinced Oura Member." With a desire to do things "differently," and help Renata get involved with tracking her own health metrics, Witold asked if she would accept an Oura Ring as an engagement gift — and she agreed. ("Though she probably thought I was kidding until the very end!" he says.)
"On the day I proposed, the Oura Ring had already arrived, so Renata had tried it on before I got home that day. But we put it back in the box, and I proposed to her using the Oura Ring. No other rings were involved in the process," Witold says. 
And the best part? "Although I was slightly concerned she wouldn't care about her metrics or even charge it regularly, she got way more excited than I could have anticipated! It just worked out so well." 
Right now, the couple wears the Oura Ring on their index fingers as indicated to ensure the most accurate detection. In the future, Witold says, they may begin wearing family-heirloom wedding rings on their ring fingers so as not to clash with the Oura Rings.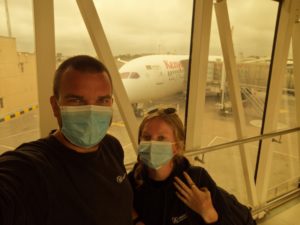 Witold's favorite benefits:
Since becoming an Oura member, Witold has realized how certain behaviors affect his sleep. He's learned that factors such as drinking alcohol or going to bed very late keep his heart rate up and "quite literally destroy my sleep." "I noticed the same about extraordinarily active days, especially if it's many in a row, which can happen in a traveler's life," he notes. "Balance is key, apparently."
On the other hand, Witold has observed that drinking coffee in the afternoons or even in the evenings doesn't impact his metrics very much, which he didn't expect.
LEARN MORE: How Sleep Balance, Activity Balance, and HRV Balance Affect Your Readiness Score
"Plus, Oura has helped me get much better about coming back to my routines after disruptions, like a holiday," he says. "In the past a 'bad' week could result in my routine being changed for months on end. Now a bad week usually ends right after the reason vanishes, for example, when the holidays end."
Renata's favorite benefits: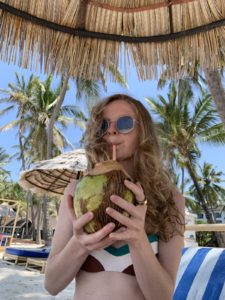 Renata finds a lot of value in the period prediction feature, which allows her to be "logistically prepared," especially when traveling. She also really likes the reminders that it's time to "stretch your legs," as she can get really immersed in office work. In fact, Oura remains the only app that she allows to show push notifications on her phone!
Renata also enjoys the customized messages displayed in the app after every night in relation to Sleep and Readiness, such as "Don't Push It" or "Make a Move?" In terms of her sleep, she's learned that any amount of alcohol larger than a glass of wine or so hurts her sleep patterns by drastically increasing the heart rate. ("I can confirm that it's really difficult nowadays to convince her to go to a bar," Witold says with a smile.) 
Have a story you'd like to share with the Oura community? Share it with us here!