All Hours is a new series showcasing Oura members from a variety of diverse backgrounds, professions, and lifestyles — an artist-producer, an Olympic athlete, a CEO. Each episode demonstrates how these members turn to Oura to inform the actions, routines, and decisions that impact their health, at all hours of the day.
Meet The Pocket Queen 
The premiere All Hours episode features artist-producer and multi-instrumentalist, The Pocket Queen. Born in New Orleans, PQ started playing in her local church band at the age of 6. PQ attended Berklee College of Music in Boston, Massachusetts on a presidential scholarship. After graduating in 2011, she relocated to Los Angeles in 2013. 
She has shared the stage with luminaries such as Stevie Wonder, Janelle Monae, Fifth Harmony, and Daya. Her career even landed her on the 50-yard-line of Super Bowl 50, performing as one of Beyoncé's drummers in her hit single, "Formation." Her televised appearances include The Ellen Show, The Late Late Show, American Idol, and Late Night with Seth Myers. 
In 2021, The Pocket Queen independently self produced and released her debut single entitled "We Came To Move" (feat. Ryck Jane). 
---
On Set with The Pocket Queen
On what drew her to Oura:
I wanted to know more about my state of being — my heartrate, how much sleep I was getting. Plus, I love that it's fashionable. I love gold jewelry. I've never really been a watch person — especially with playing the drums, it's very bothersome to have things on my wrists. So I wear rings already, and it blends in so well with all my other rings. It feels a little more true to me. I think it's a cool and fashionable way to implement self-care. 
On her favorite Oura features:
I really love Oura's Activity Tab because it reminds me to get out the door and go for a walk or a hike. Exercise has become a very important aspect of my life — a very important aspect of my creativity, even. There have been so many times where I'm working out or hiking and something I've been thinking about is finally clear. I'll pull out my phone while on a hike, and I'll just sing in the phone, or I'll write a note, or I'll call somebody and be out of breath, because it's allowing me to be the fullest version of myself.
On when she checks her Oura App:
Mostly in the morning to see how much sleep I got; when I'm hiking on a trail; when the notifications pop up; and at the end of the day to see how I did. Sometimes I don't even understand how it knows something, but it does!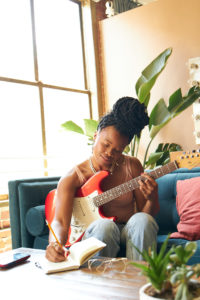 On what music means to her:
Making music to me means that I have a level of communication outside of my physical scope. It is something that can reach anybody, whatever your color, whatever your background. It allows me to reach multitudes of people. I'm shy. I'm not that social. Music has always been a connector for me. It's a relatable thing that I can talk about to anybody.
On overcoming a bout of depression:
[After accidentally deleting a hard drive's worth of music,] I was so numb. Everything that I had worked so hard to build just vanished right before my eyes. That was dark. That was my first bout of depression. I didn't handle it well at all. I just kind of stopped. I vanished. I went through this for maybe like two years. I was depressed, and I was distracting myself on purpose. It was really going home and being recentered with my family that reminded me why I was where I was. I had to face myself. I have to remind myself daily to put practices into place that help me avoid depression — things like staying active and hiking have definitely helped. 
On betting on herself:
The amount of opportunities that have come from me betting on myself made me realize how much I can bring whatever I envision into reality. From there, I just began to make a vision and make it real, from the way that I talk to the way that I walk. Every step that I make, I aim to set intention behind what it means, why I'm doing it. That is the difference between now and then. 
Watch the video for PQ's new single, "We Came To Move," here.
Follow PQ on Facebook and Instagram.