We are often told that sleep is a process happening at the surface of the brain (i.e., the few millimeters measured by electroencephalography or "EEG"). In reality, sleep occurs throughout your brain and body, thanks to a network of internal clocks that report back to your central "Sleep CEO."
This Sleep CEO is a deep brain center that determines whether or not it's safe to take your systems offline for sleep.
Your Sleep CEO requires feedback from your body's network of clocks before it can make its final decision.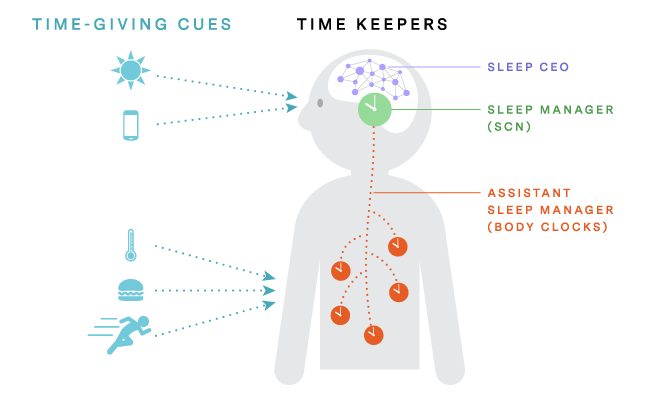 Your Network of Clocks
Your feedback system consists of clocks (time keepers) and cues (time givers). Cues can originate from your environment (e.g., sunlight) or body (e.g., food entering your stomach).
These cues motivate your clocks to promote sleeping or staying awake. Your clocks react to these cues and communicate with one another throughout your day. This ongoing dialogue results in clocks sending important messages like, "I'm hard at work, let's stay awake" or "I'm resting, let's power down."
Your head manager, or primary clock, is the message relay center in the brain known as the suprachiasmatic nucleus (SCN). The job of the SCN is to keep all clocks on a consistent schedule and compile the final daily report for the Sleep CEO to review. The SCN keeps time by taking cues from the light in your environment.
If there's light, it will jump on the intercom and announce, "it's daytime, let's get to work!" to alert the rest of your clocks. If it's dark, it will deliver the announcement, "it's nighttime, let's power down!"
Each of your secondary body clocks, or peripheral oscillators, is sending and receiving messages as well. For example, if your stomach receives a cue, like a large deposit of food, it will send a memo to the SCN and other secondary clocks to say "Wait. Sorry, everyone. I've got a lot of work to do, we can't shut down just yet."
The SCN is constantly trying to keep all secondary clocks on the same schedule; however, your days vary. This can result in clocks receiving cues at different times and can lead to disagreements.
Your Sleep and Wake Cycle
Ideally, your Sleep CEO makes clear decisions that result in a defined pattern of sleep. Think of it as a wave:

However, this cycle isn't always so easy. Your Sleep CEO has to decipher inputs from all secondary clocks before it can make a decision. Your SCN and secondary clocks all have their own status reports, so when all of your clocks are aligned, your Sleep CEO's job is simpler, resulting in clear patterns of sleeping and waking up.
When the reports aren't aligned, the Sleep CEO has a difficult time deciding when you should be awake or asleep. For example, if you've ever lost sleep at night due to stress, it's likely your internal clocks were misaligned.
Your SCN and stomach may have reported a clear pattern of sleeping and waking up (i.e., light exposure and meals at the expected times), but your stressful day may have triggered the secondary clock in your adrenal system to send multiple reports saying "Delay, delay! We can't shut down yet." This lack of synchrony makes your Sleep CEO's final decisions high-risk and chaotic.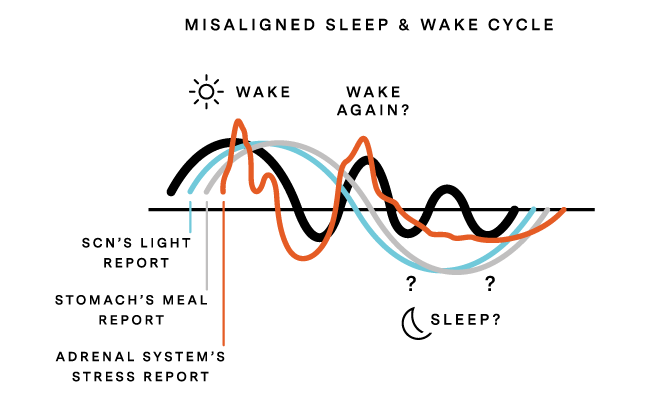 This misalignment in your internal clocks is reflected in your body's signals:
Resting Heart Rate
If your clocks agree, your resting heart rate will be at its lowest point in the middle of your sleep. If they are misaligned, your lowest resting heart rate won't occur until later in the evening.
Example One: Nighttime exposure to your phone's blue light gets misinterpreted as daylight cue by your SCN. Your SCN messages your secondary clocks, saying "it's daytime, let's get to work!" Your heart receives this message and speeds up even if you're trying to wind down for bed.
Example Two: A late-night meal cues the secondary clock in your stomach. Your stomach sends the message "we just received a deposit, we need to stay awake longer to work" to your remaining clocks, even if the SCN has already announced, "it's nighttime, let's power down!"
Body Temperature
If your clocks agree, your body temperature will decrease just before sleeping. If they are misaligned, your body temperature may take longer to cool or fluctuate.
Example One: A late-night cardio workout cues the secondary clock in your muscles that activity levels and body temperature are high. Your muscles send a message rippling through your clock system: "Delay, delay! We can't shut down yet," even if the SCN has already announced, "it's nighttime, let's power down!"
Tips for Improved Sleep
Now you might think, "What can I do with this knowledge?" There are certain cues you can't control (like the sun!) but others you can. You have the power to create a nighttime routine that has clear sleep cues that align all your clocks for bed.
Avoid situations where your body sends wake cues close to bedtime and seek out sleep-promoting cues instead.
Check out these tips to fall asleep at your optimal bedtime:
Light: Avoid blue light at least an hour prior to bed.
Food: Avoid heavy meals, caffeine, and certain medications.
Activity: Avoid heavy exercise in the hours leading up to bedtime.
Arousal: Avoid stressful stimuli, like email or social media.
Body Temperature: Cool your body via a cool room or a hot shower which encourages your body to cool itself afterward.