Elegant and subtle, our latest design, Oura Gen3 Horizon, effortlessly blends fashion and function. This stylish yet remarkably powerful ring strikes the fine balance between technology and design, resulting from the hard work of our global hardware team.
To learn more about this feat of engineering, we chatted with our hardware team in Finland, led by Tuukka Jarvenpaa, Senior Director of Product, for an inside look at the research and development process behind Horizon.
What was the catalyst for designing Horizon, our first perfectly round ring? 
At Oura, we are continuously looking for ways to make a positive impact on people's lives with our products and services.  
In designing Horizon, we asked ourselves: How can we deliver all of the high-tech innovation that Gen3 offers, while making it look as timeless as a wedding band? We believe that less is more, and this design reflects that value. All superfluous details are removed or hidden, revealing only what delivers true value to our members' lives. It is the manifestation of our effort to make ubiquitous technology disappear and make it appear as magic. 
Horizon's design succeeds at delivering all of the Gen3 features our members desire, while maintaining a sleek, minimal look. This is an extremely hard path to take since our effort consists of moving already microscopic details. To achieve this goal, we needed to make the most of our resources such as titanium structures and biometric systems. 
How did Oura's Finnish roots influence the design of the ring? (Oura was founded in Oulu, Finland, in 2013.)
Finnish design is deeply rooted in simplicity as a core value. It is characterized by the removal of the unneeded and the focus on what really delivers purpose.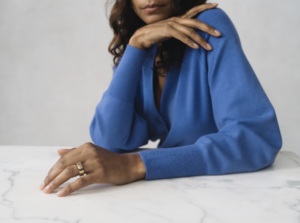 We have invested a great deal of effort to deliver further on our mission: to empower everyone to realize health as a daily practice and feel supported in every step of their journey. Every new product we launch to the market is a step forward towards that goal. Our latest efforts have succeeded in making our technology nearly invisible, while continuing to improve people's lives through our powerful Gen3 technology — tangible benefits like better sleep, more accurate understanding of their health, and a positive impact on their quality of life.
We believe this is what both Finnish design and Oura stand for.
Who led the design of the ring? How did you know when you landed on the best design?  
Horizon has been developed through a multidisciplinary team of scientists, engineers, and UX designers. This team has remarkable experience and capabilities to understand member needs in depth, and address them through technology. Success means we have positively affected an individual's wellbeing, and ultimately society. 
How did we end up with the name Horizon? 
The word horizon is derived from the Greek horízōn kýklos, meaning "'separating circle." It reflects our desire to look to the future and continue evolving our best-in-class technology and style. 
The horizon also served as a directional signal for sailors to reach their destination before GPS — just as the Oura Ring serves as a guide for our members to reach better health.
Furthermore, Horizon harkens images of sunrises and sunsets. The horizon signals the bookends of your day, just as the Oura App marks your body's transitions from sleep to wakefulness, and from wakefulness to sleep.
How did you develop the five finishes?

Oura Horizon comes in glossy silver, glossy gold, glossy black, and stealth (a matte graphite black), and now we are adding glossy rose gold to our lineup, which adds a warm and delicate color option to the collection.

When creating the color lineup, we were inspired by inherent qualities of precious metals, semantics of contemporary jewelry design, and attention to detail. In our color development process, we carefully select our materials and finishes to fulfill our design vision and material requirements. Sampling, testing, material science, and market research are all equally important parts of the process where the best possible outcome reveals itself after many months of hard work.

Most importantly, our color range and color development process is led by Oura members' wishes for their wearables and their aspirations for self-expression. 

Tell us about the new finish, Rose Gold.
Rose Gold is a purposeful addition to our color lineup. We spent a lot of time developing the perfect shade of rose gold that complements our collection and will look beautiful on any hand. The mirror-polished finish on the Horizon ring in combination with the rose hue really complements the warmth of skin. The satin-matte finish of the dimple that is on the palm side, creates an extra dimension of detailing and creates a tactile hidden feature. 
---
About the Oura Expert
Tuukka Jarvenpaa is Oura's Senior Director of Product, based in Helsinki, Finland. A creative business leader with more than 20 years of experience in developing new businesses and building new global products, Tuukka has led and delivered results for engineering, product, and sales teams at Fortune 500 companies including Google, Microsoft, and Nokia.