Tags help Oura users monitor how their actions impact what's happening in their body. We've heard from many of you that you're interested in more tags that can help you personalize your Oura experience. We take user feedback seriously and are happy to announce that we are adding more.
Now, with the addition of tags for "Cold", "Flu", and "Confirmed COVID-19", you can choose to tag days when your body was struggling with an infection to better track how your body reacts and recovers.
Your Oura experience is always improving, and new tags will continually be added in the future. We can't wait to hear your stories about how you use tags to better understand your trends.
What's New?
These new tags — Cold, Flu, & Confirmed COVID-19 — join other tags like Cramps, Headache, Pain, & Sick, so you can more clearly log the days you don't feel well.
For example, now you can tag "Flu" if you want to easily see how your body temperature variation, respiratory rate, or resting heart rate changed on days where you tagged "Flu" and how you recovered in the days after. This may help you better understand when your body is ready for your normal routine again.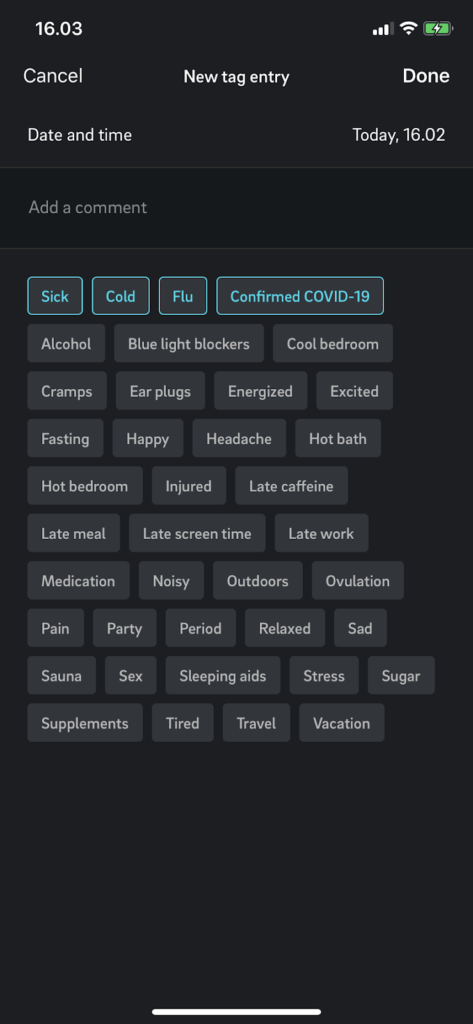 How can you use this feature?
These tags will allow you to gain greater insight into how health events impact your body. How long does it take you to rebound from a bad cold? Are there certain days where your cramps seem worse? Can you make changes that help expedite your recovery? Taking the time to log a tag may make it easier to draw connections later on.
If you're monitoring yourself for illness, keep an eye out for these patterns as you tag your data:
Increase in resting heart rate
Decrease in heart rate variability
Body temperature or respiratory rate outside your normal range
Change in sleep quality
Oura is always adding new tags, including health-related ones, to help you better monitor yourself. Think that your caffeine usage is causing a headache? Or that you tend to get sick after a weekend of little sleep? Tags can help you explore the connections between what you do and how you feel.
Please note: The addition of the "Confirmed COVID-19" tag is intended for users to better track their own trends and was created in response to user requests. This tag is not associated with the UCSF TemPredict study and does not impact your participation. If you are enrolled in TemPredict, please continue to complete daily symptom surveys to contribute to this research effort.
How Are Users Leveraging Their Oura data?
The following are true stories taken from users who chose to share their experiences. We've changed their names to respect their privacy.
Joe Spots A Tick Bite
"My wife and I regularly run on the Appalachian Trail which is right behind our house. Our two dogs, Brooke and River, often join us on these adventures. They're Vizslas and they love to run!
But there are ticks in this area and we're always on high alert. We always check the dogs and ourselves for ticks following our runs. 
After one such run in September, I didn't feel any symptoms but I noticed the next morning that there was an uptick in my respiration rate and temperature. If my wife sees changes in her temperature, it's normally because of her monthly cycle but for me a temperature spike is a huge warning flag.
I mentioned this spike to my wife. If I was showing symptoms of something, how was my family?
The following day our dog Brooke wasn't eating and was lethargic. My wife is a veterinarian and she tested her right away and she came back positive for anaplasmosis – all four of us started treatment that day but you could see my body react to the tick bite. 
The next few days my temperature and respiration rate shot up. We hadn't had any symptoms but my Oura data showed me something was definitely off.
 I started tagging the days as 'sick.' I've had another tick infection since this incident. I now know what body signals to look for so I can stop tick infections before they become chronic."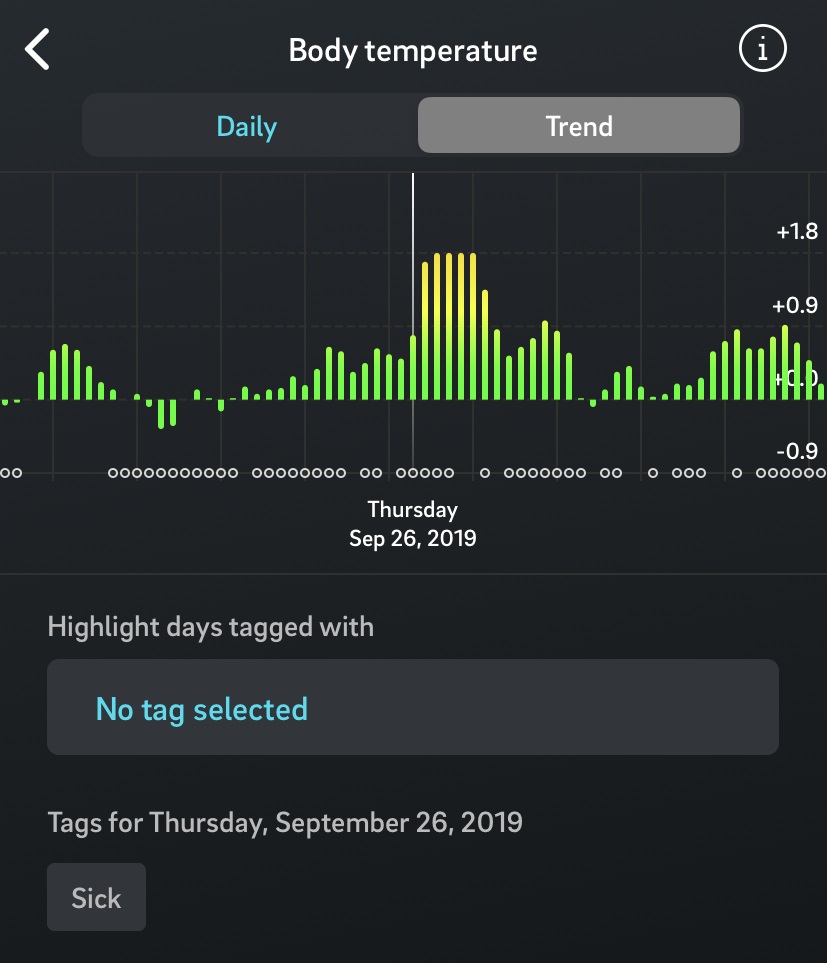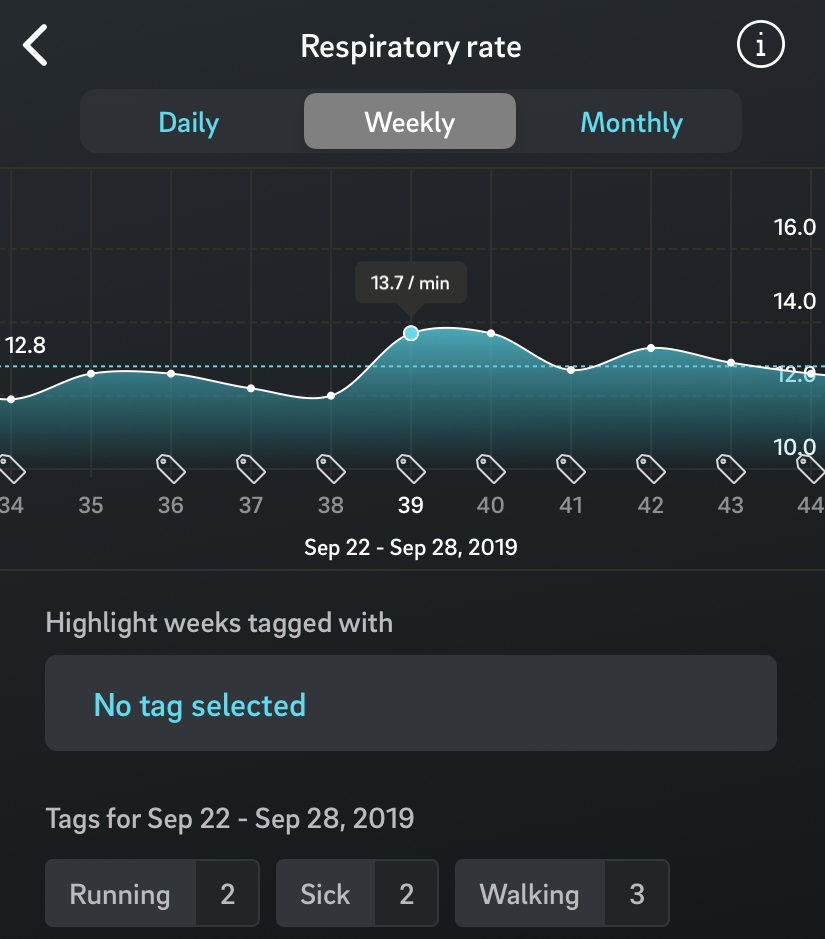 ---
Oura Ring products and services are not medical devices, and are not intended to mitigate, prevent, treat, cure or diagnose any disease or condition. Oura's insights are suggestions based upon your data, and shouldn't be substituted for medical advice or prevent you from taking a holistic view on your overall health. If you have any concerns about your health, please consult your doctor